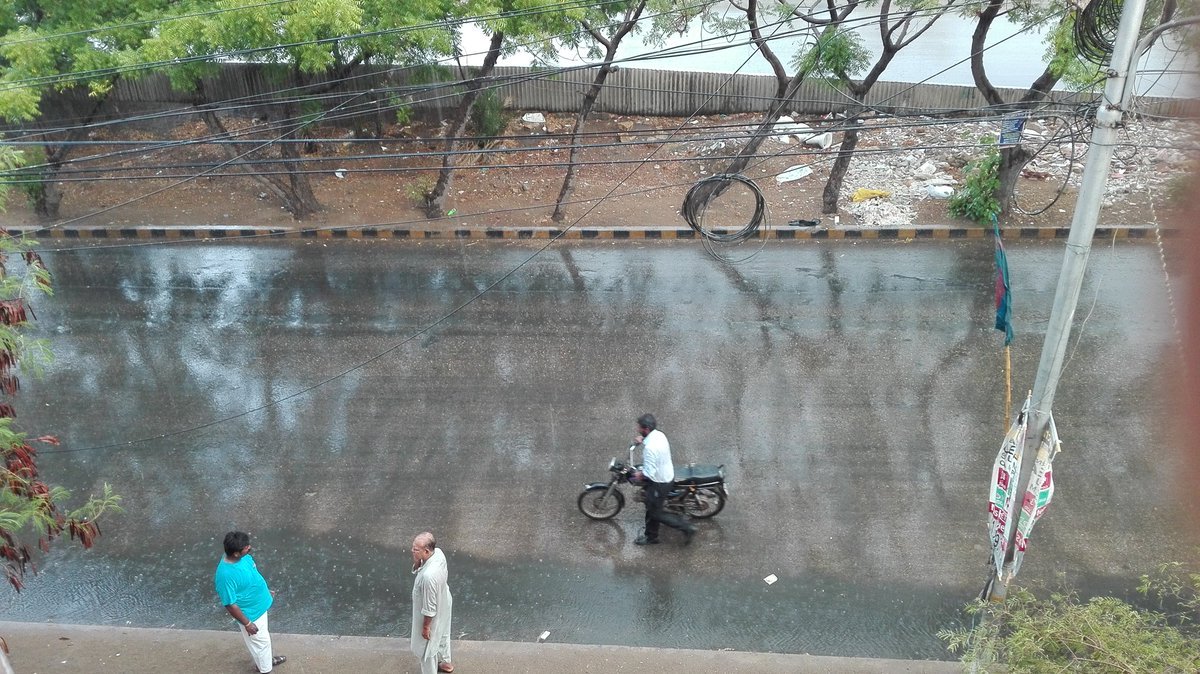 ---
The much-awaited monsoon has arrived in Karachi and Hyderabad city finally. Rain was reported in many areas of both cities on Tuesday evening.


Some relief for Karachiites. It's raining, finally. pic.twitter.com/xZDgotJYId

— Faizan Lakhani (@faizanlakhani) June 28, 2016


Monsoon rains set to hit Pakistan next week

However, soon after the drizzle, a number feeders of K-Electric tripped, causing power outages.

The areas facing power breakdowns include North Karachi, New Karachi, Orangi Town and Pahar Ganj, according to Express News.

Reports suggested the power company's 132 KVK line also tripped, which could halt water supply in Karachi.




Almost all pumping stations, including Dehbaji, Gharo, and Pipri were left without electricity.

The Pakistan Meteorological Department (PMD) had on June 22 predicted an early onset of the monsoon season this year, saying its prediction was based on a set of parametres such as the depth of westerlies over the region, wind flow pattern, rainfall distribution and outgoing long-wave radiation.

The department had forecast that monsoon's onset over the mainland was expected from June 27.

Twitterati reacts

Karachiites enjoyed the first spell of monsoon rain after bearing the scorching and searing weather condition for a number of days.

https://twitter.com/ThatCule/status/747815836958744577


#KarachiRain #Karachi wooohooo 😁😀😁😀😁😀😁😀 #Happy pic.twitter.com/Szp1uoLZiy

— Imran Ghazali (@ImranGhazaliPK) June 28, 2016
People have gone super crazy with this rain, after 2 years to be precise, almost everyone is out of home!! #Rain #Karachi

— Zoya Altaf (@zoya_altaf) June 28, 2016
Blessing it is.. *feeling happy*#Toomuchrain #Rain #Karachi

— Sanobia Anwer Soomro (@SanobiaSoomro) June 28, 2016
It's raining Yayyy #KarachiRain

— Maheen Fidai 🇵🇰 (@MaheenFidai) June 28, 2016


However, the power breakdown in many parts of the metropolis spoiled their joyful mood. Many expressed their anger against the K-Electric.


First showers of #rain in #Karachi & our neighbourhood plunges into darkness. But many resilient #Karachiites out to enjoy the weather

— Amir Zia (@AmirZia1) June 28, 2016
#karachi.. Five min of rain is enough for @KElectricPk to shutdown... #KElectric now its been an hour, please.... pic.twitter.com/nFHvs0V2Ky

— Asher Alam (@AsherAlamgeo) June 28, 2016
And as soon there are talks of rain in Karachi, the @KElectricPk takes us back to stone age. #ShameOnKE

— Faizan Lakhani (@faizanlakhani) June 28, 2016
It barely starts raining and the whole system of @KElectricPk collapses. Sitting in darkness now. #Karachi finally blessed with rain 🌧️ ️😀

— Wajahat Kazmi (@KazmiWajahat) June 28, 2016
It's raining and @KElectricPk is kaput #Karachi

— Ayesha Tammy Haq (@tammyhaq) June 28, 2016