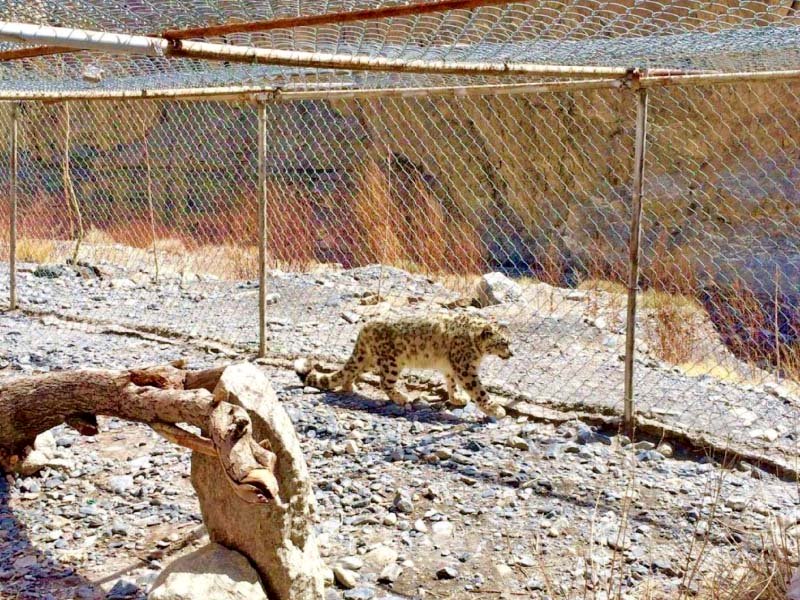 ---
GILGIT: A majestic beast has been stripped of its right to live in the wild and has been forced to live in a cage in Gilgit-Baltistan for nearly four years.

"King of mountains," as the snow leopard is called, usually lives at an altitude of 12,000 to 18,000 feet and walks around an area of around 250 kilometres. This particular cat called Lovely, was deprived of this and lost its independence in December 2012 when it was hardly six months old.

Its mother apparently deserted the injured cub after it failed to cross a river in Khunjerab National Park, one of world's highest parks in Hunza Valley of G-B.

7 magnificent pictures of endangered snow leopards in Pakistan

A field team of the wildlife department spotted it and shifted it to a rehabilitation centre, following its treatment.

Altering the cycle of life

If Lovely's mother is searching for her cub, it will inevitably be disappointed.

The cub only looks like the king of mountains and along with its habitat, everything about it has changed. The big cat has become domesticated – it eats meat supplied by the wildlife department and given to it by the caretaker instead of preying on markhors and other wild animals. Instead of striding and roaring aloud in the wild, Lovely is confined to a cage in Gojal which is only a few metres wide.

"This is sheer injustice with this beautiful animal," Athar Iqbal, a nature lover who visited Gojal recently told The Express Tribune. "It not only defies nature but is also against animal rights – the cat is supposed to live in the mountains, not in a cage."

Rahat Karim, a local said, "It seems to me that the leopard pleads for her release with anyone who visits her."

Leopard selfie: SLF starts camera trapping in Terich Valley

"I was wondering why Lovely was not released into the wild immediately after its treatment?" Basit Khan, a pioneering conservationist in G-B who also headed WWF from the mid-1990s to early 2000s asked. "Whose fault is it and who is there to compensate for the four prime years of this cat's life that it spent in captivity?" he added.

Khan asked the authorities to release the animal from the cage. He also said if rights activists in Europe and America came to know about this, they will campaign for its freedom.

However, G-B wildlife conservator Ghulam Muhammad said releasing the big cat into the wild now will be extremely dangerous. "It may attack livestock as well as human beings since it has not been trained to hunt wildlife," Muhammad told The Express Tribune.

He said the cub was better looked after in the present situation as monthly expenditure on its food was about Rs30,000. "A proposal to establish a zoo in G-B has also emerged," he added.

However, scientists wonder if the establishment of a zoo in G-B was necessary since the whole region was a wildlife sanctuary.

The backdrop

Leopards are listed as endangered species in Pakistan. With only 200 such animals in the country, there is a dire need for preservation. Their presence in an area signifies prevalence of a healthy ecosystem.

Scientists state once a cubs is two years old, it parts ways with its mother and sets out on its own.

Snow leopards are also called 'ghosts of mountains' since they roam into the wild alone. They also leave marks on the landscape they inhabit to suggest the area has been demarcated and other snow leopards can no longer mark it as their territory.

Published in The Express Tribune, June 26th, 2016.
COMMENTS (9)
Comments are moderated and generally will be posted if they are on-topic and not abusive.
For more information, please see our Comments FAQ