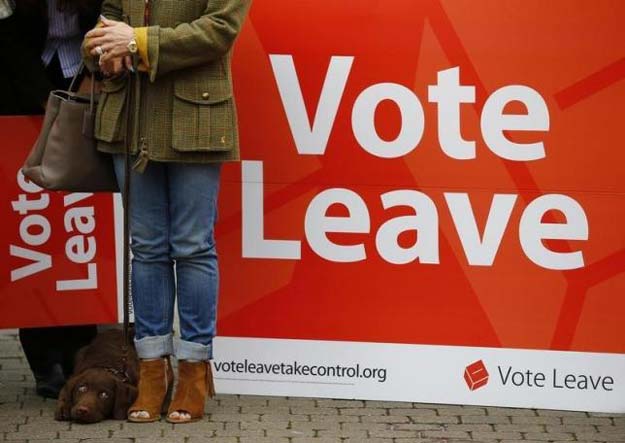 ---
British markets plunged on Friday, with sterling hitting a 31-year low in its biggest fall on record and UK stock futures pointing to a steep fall at the market open after Britons voted to leave the European Union.

Bonds also sold off sharply, pushing UK government borrowing costs sharply higher, as traders and investors grappled with the market implications of 'Brexit'.

Britain votes to leave EU in historic divorce: BBC

The pound had hit a 2016 high above $1.50 after an earlier opinion poll showed an outcome in favor of 'Remain', but fell nearly 17 cents from that peak as area counts came in and TV stations said the Brexit camp had won the landmark referendum.

The British currency's fall of almost 10 percent was also historic, marking a decline greater than anything seen since free-floating system of exchange rates was introduced in the early 1970s.

It was even bigger than on 'Black Wednesday' in 1992, when billionaire financier George Soros was instrumental in pushing the pound out of the Exchange Rate Mechanism.

London bankers working through the night said they hadn't seen anything like the volatility sweeping across UK assets.

"It's back to the future, we're back to where we were in 1985," said Nick Parsons, co-head of global currency strategy at NAB.

Trump: Britain should 'go it alone' and exit EU

"We've had a 10 percent decline in six hours. That's simply extraordinary, and a vote to leave provides an existential crisis for Europe," he said.

Sterling fell as low as $1.3305 GBP=, its weakest level against the dollar since September 1985. It fell 6 percent against the euro EURGBP= and 15 percent against the yen GBPJPY=.

The cost of insuring against swings in the sterling/dollar exchange rate jumped to 53.375 percent GBPSWO, the highest since at least 1998, and stock futures pointed to a fall of 7 percent at the London open FFIc1.

Banks are likely to be in the spotlight after the Hong Kong listings of HSBC and Standard Chartered plunged as much as 10 percent in Asian hours.

Bond trading platform Tradeweb opened earlier than usual on Friday, and initial data showed a jump in benchmark 10-year UK government bond yields to 1.57 percent from around 1.38 percent late Thursday GB10Y=TWEB.

"It's extraordinary. 'Shock' probably isn't too strong a word," said John Wraith, Head of UK Rates Strategy, UBS Investment Bank.

The referendum's market impact was global. U.S. Treasury yields fell sharply as investors rushed to the safety of U.S. government debt, while other safe-haven assets like gold XAU= and the Japanese yen jumped JPY=.

'Out is out,' EU's Juncker warns Britain

All the major international and British banks in London, including Citi Deutsche Bank, JPMorgan, Goldman Sachs and Barclays had traders either working through the night or on call.

On Citi's foreign exchange desk in London, dealers were only accepting voice orders and only desk heads had the authority to approve trades, according to a source at the bank.

Banks had warned clients about volatile trading conditions around the results which may lead to large gaps in prices. Barclays stopped accepting new "stop loss" orders as of 0600 GMT, an extremely rare move for one of the big six banks that dominate the world's biggest financial market.

Investors are now bracing themselves for possible intervention from central banks or finance ministries to stabalize markets. So far, there has been nothing concrete, market sources said.

The referendum on whether to quit the EU was bitterly contested, and polarized the nation. Financial markets, on edge for weeks over the uncertain outcome, had rallied on the strength of late polls that showed a swing towards staying in, perhaps setting them up for the steep fall.

"Those big money bets in the lead-up to yesterday's vote look to have been rather premature," said Michael Hewson, chief market strategist at CMC Markets.
COMMENTS
Comments are moderated and generally will be posted if they are on-topic and not abusive.
For more information, please see our Comments FAQ