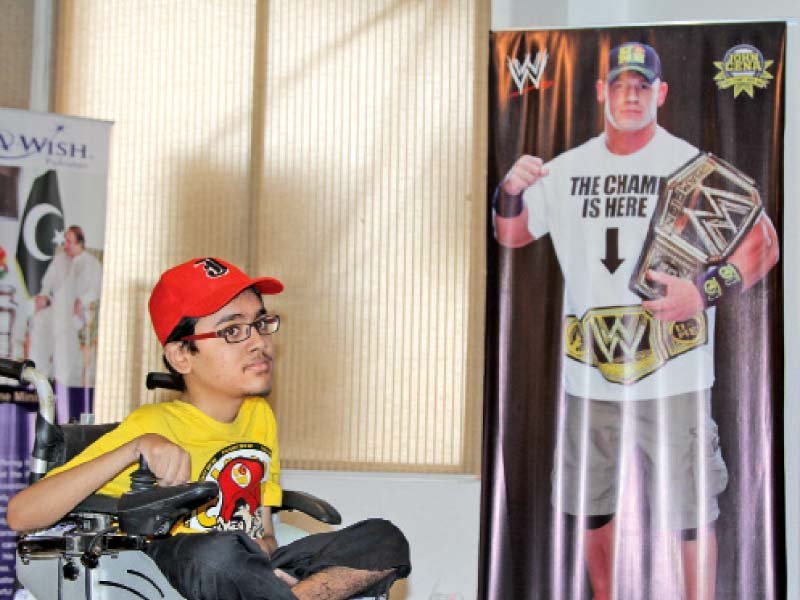 ---
KARACHI: Seventeen-year-old Tanzilur Rehman would never have thought of meeting his favourite celebrity, John Cena, and watching him fight live at a Real American Wrestling (RAW) event but Make-A-Wish Foundation, Pakistan, has fulfilled his unique wish.

Rehman, who is suffering from muscular dystrophy, is fond of the World Wrestling Entertainment (WWE) champion and has never missed any of Cena's fights since 2010. "I watch every match of his regardless of the time it gets aired in Pakistan and, if I miss a match, I watch it online," said Rehman, sitting in his customised wheel chair.

Aamir Khan meets fan with genetic disorder, leaves him 'optimistic'

He was two years old when his parents noticed that he had difficulty walking. "We took him to a doctor and he was diagnosed with muscular dystrophy," Rehman's father, Hafiz Azeem recalled. The doctors informed him and his wife that Rehman will be bound to a wheel chair till he turns eight years old.

"Many researches and past cases suggest that patients suffering from this ailment cannot live for more than 20 years," he said. Rehman cannot move his hand or turn around but he can talk. Rehman studied at Defence Authority Sheikh Khalifa Bin Zayed School till class three but was unable to continue his schooling due to his ailment. "We got him admitted into Iqra School instead, where he became a hafiz," said Azeem.

The father shared that his son was intelligent and a position holder at school. "After leaving school and completing his Quranic education, he now studies online with the help of his elder sister, Nimra, and younger brother, Kashan," he added.

"We help him in every way possible," said Nimra, adding that they never let him feel alone and take him along everywhere.

Talking to The Express Tribune, Rehman said that he is very excited that he will attend the RAW event and get a chance to see his favourite star wrestling in front of him. "I am taking a Sindhi topi and Ajrak for him as a gift from Pakistan. I hope he will like it," he said.

International Day of Persons with Disabilities: Wheelchair-bound but 'not out of the race'



He added that he will also ask if Cena can help him in any way with his treatment as the United States (US) may have advanced treatment for his ailment. The whole family will be leaving for Ohio next week to meet the WWE champion. They are invited for a fight on July 4, where Rehman will be attending as special guest. "He has promised to send a limousine for Rehman to bring him to the RAW event," said Make-A-Wish Foundation Pakistan founding president Ishtiaq Baig. Rehman's name will also be announced before the fight, mentioning him as a special guest from Pakistan, added Baig.

Besides watching wrestling and collecting Cena's posters, Rehman is also fond of news and current affairs programmes. "He knows about everything going on in the world and he also watches National Geographic very fondly," said Nimra.

He has asked his siblings to fill all the walls of his room with Cena's posters and he fights with his younger brother if he watches any fight alone, she added.

Meeting a hero

The entire process of arranging this meeting took around three months. "Rehman's family contacted us after which we sent an invitation to the Make-A-Wish Foundation in the US," said Baig, adding that the family is going for a month-long visit.

Recalling how she pursued her brother's wish to meet a celebrity, Nimra said, "We emailed the non-profit in the US about Rehman wanting to meet John Cena and they replied, asking us to contact their office in Pakistan," she said.

The foundation in Pakistan is an affiliate of the international Make-A-Wish Foundation, which spreads across 60 other countries. It is the biggest wish granting organisation for children and grants the most cherished wishes of children suffering from life-threatening illnesses.

"We do not want any child to leave this world with an unfulfilled wish," Baig explained.

Published in The Express Tribune, June 23rd, 2016.