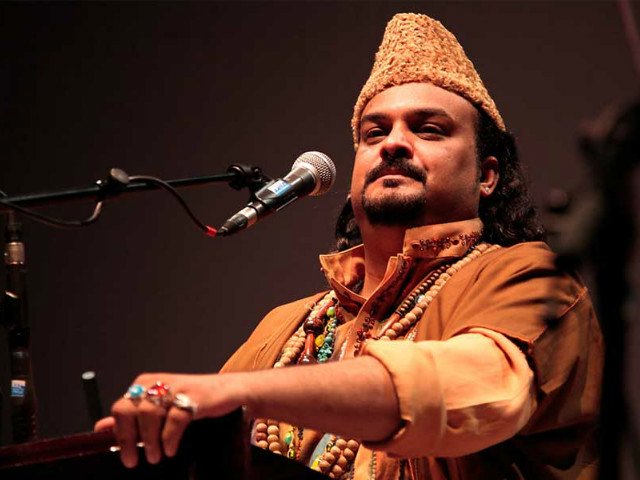 ---
The news of renowned qawwal Amjad Sabri's death has shook the entire nation.

He was killed as his vehicle came under attack in Karachi on Wednesday.

Politicians, celebrities, journalists, cricketers and renowned personalities took to Twitter to mourn the national loss.

Amjad Sabri shot dead in Karachi

Here's what the have to say about the legend:


Shocked at the murder of famous qawwal Amjad Sabri & his companions in Karachi. A complete failure of law & order & writ of the govt.

— Imran Khan (@ImranKhanPTI) June 22, 2016
Heart-wrenching.. deeply saddened 2 know abt the assassination of renowned Qawal Amjad Sabri sb.. V lost a beautiful voice & a human being..

— Shehbaz Sharif (@CMShehbaz) June 22, 2016
Prime Minister Muhammad Nawaz Sharif has strongly condemned terrorist attack in which famous Qawwal Amjad Sabri lost his life.

— PMLN (@pmln_org) June 22, 2016
Amjad Sabri is no more, assassinated in Karachi. May his soul rest in peace pic.twitter.com/giB5GBN8l3

— Hina Parvez Butt (@hinaparvezbutt) June 22, 2016
I am at a loss of words!!!!
Amjad Sabri's murder.
He has been a close friend for 25 yrs. This is unbelievable!

— Ali Haider Zaidi (@AliHZaidiPTI) June 22, 2016
SHATTERED, hating this News. Lost a loving & caring friend.. Pakistan Lost 1 of its finest talent... Amjad Sabri..

— Faisal Subzwari (@faisalsubzwari) June 22, 2016
I strongly condemn terrorist attack on Amjad Sabri. My heart goes out to the bereaved family. #AmjadSabri

— Dr Tahir-ul-Qadri (@TahirulQadri) June 22, 2016
Angered & saddened by murder of sufi singer Amjad Sabri in #Karachi #Pakistan. Hosted him at DC embassy 6 yrs ago pic.twitter.com/JDXB7ZbYCN

— Husain Haqqani (@husainhaqqani) June 22, 2016
Shocking!! https://t.co/ZQ1LzqOpMY

— Mahira Khan (@TheMahiraKhan) June 22, 2016
Amjad Sabri killed as car comes under attack in Karachi. https://t.co/ltVAPECb42

— Hamza Ali Abbasi (@iamhamzaabbasi) June 22, 2016
No words. This is extremely sad, disturbing and unacceptable specially since he had submitted an application for his protection! #AmjadSabri

— Ali Zafar (@AliZafarsays) June 22, 2016
#AmjadSabri is no more with us ☹ #TMS pic.twitter.com/N9hCUkdwto

— Sanam Balochians (@SanamBalochfans) June 22, 2016
May Allah forgive his soul . Extremely saddened by his untimely demise #AmjadSabri pic.twitter.com/f10d4LvrFO

— Junaid Jamshed (@JunaidJamshedPK) June 22, 2016
#AmjadSabri spread the message of love & harmony - but the power of hate mongering won!

— Hina Khwaja Bayat (@HinaKhwajaBayat) June 22, 2016
We played cricket together last Friday,he was always smiling a kind and gentle soul. I can't believe Amjad Sabri has been taken away from us

— Fakhr-e-Alam S.I & S.E (@falamb3) June 22, 2016


https://twitter.com/falamb3/status/745583659453911041


Heart breaking Loss of another legend ...inna lillilahi wa inna elyhi rajion#amjadsabri https://t.co/lz510JvM3t

— Sonya Hussyn (@soniahussyn) June 22, 2016
I can't believe , We lost a legend like Amjad Sabri , a true friend, having such huge fan following still so... https://t.co/jWW2OLdInv

— Waqar Zaka (@ZakaWaqar) June 22, 2016
I still can't believe my dear colleague AMJAD SABRI'S death. It's shocking. What a great person & amazing human.#AmjadSabri

— Mishi khan (@mishilicious) June 22, 2016
Amjad Sabri singing Bhar Do Jholi. Murdered today by those who think the world is better without this great voice. https://t.co/TsrMNBKZiY

— Kamila Shamsie (@kamilashamsie) June 22, 2016


https://twitter.com/Maheenkhanpk/status/745581371008163844

Today, one of the greatest voices in the Subcontinent was silenced

Deeply saddened over the demise of Amjad Sabri who was shot dead in Karachi. Inna Lillahe wa inna elayhe rajeoun!

— Sheheryar Munawar (@ItsSheheryar) June 22, 2016
.. Amjad Sabri, our famous Qawal, is no more. Extremely disturbing and disappointing on every level. Don't know... https://t.co/dTq253OVlh

— Xulfi (@zulfiqarjkhan) June 22, 2016
So shocked to hear about the sad demise of Amjad Sabri (a great qawal and person)... Brutality at its peak... May... https://t.co/uSKvEelYJd

— Shiraz Uppal (@shirazuppal) June 22, 2016
Just heard that legendary Qawal Amjad Sabri has passed away in target killing. Just can't believe it.

— Shehzad Roy (@ShehzadRoy) June 22, 2016


https://twitter.com/PakRamazaan/status/745591779207020544


Deeply saddened by the death of this legend ! RIP amjad Sabri u were a fine man prayers and saber to ur family... https://t.co/JqanR1wY9M

— Tooba Siddiqui (@ToobaSiddiqui) June 22, 2016
8 performances by Amjad Sabri that will leave you spellbound
Last picture of Amjad Sabri (Martyred today June 22) with Mr Ansar Burney, Advocate at PTV Home Sehri program pic.twitter.com/Oq0qEW6PJb

— Ansar Burney (@AnsarBurney) June 22, 2016
Amjad Sabri dead. Can't bear this anymore. No sense.

— Meher Bokhari (@meherbokhari) June 22, 2016
Deeply saddened by the gruesome murder of #AmjadSabri He was a great human being. U will be greatly missed Amjad Sb! pic.twitter.com/WlYmYUMtAA

— Sana Bucha (@sanabucha) June 22, 2016
Amjad sabri the famous qawal and son of Ghulam fared sabri got killed in https://t.co/4Hq7ISI4K1

— Asma Shirazi (@asmashirazi) June 22, 2016
Amjad sabri (qawwal) died in an attack....in shock...

— Kashif Abbasi (@Kashifabbasiary) June 22, 2016
Met Amjad Sabri once years ago and had the chance to converse with him, what a truly nice man he was, good humoured, loved cricket #RIP

— Fasi Zaka (@fasi_zaka) June 22, 2016
3 days Target killers kill #Amjad Sabri kidnappers kidnap Chief Justice son it seems Karachi operation shot down

— Kamran Khan (@AajKamranKhan) June 22, 2016


https://twitter.com/Wabbasi007/status/745591872396066816


Amjad Sabri .. This is such a tragic news. May Allah have mercy on his soul. Ya Allah Reham!

— Mohammad Irfan (@M_IrfanOfficial) June 22, 2016
Innalillahi wa inna ilaihi rajioon. May Allah grant Amjad sabri jannat e firdous and give sabr to his family. Ameen #AmjadSabri

— Junaid khan 83 (@JunaidkhanREAL) June 22, 2016
AMJAD SABRI YOU WILL BE MISSED IN MY LIFE FOREVER MY BROTHER RIP....😢 #BlessedMonthRamadan

— Faisal Iqbal🇵🇰🏏فیصل اقبال (@FaisalIqbalCric) June 22, 2016
sad new for the whole country.may your soul rest in peace.INNA LIALLAH HI WA INNA ELAHI RAJOUN pic.twitter.com/XWm8LDAfKs

— Kamran Akmal (@KamiAkmal23) June 22, 2016


Singer Rahat Fateh Ali Khan expressed his condolences on the sad demise of Amjad Sabri, saying "People will come and go, but Amjad Sabri is such a pillar of Pakistan who will stay with us for good."

He said only Amjad Sabri and Madam Noor Jehan were bestowed like this with the blessings of Prophet Muhammad (pbuh).

"Sabri used to revere his elders. He was a manifestation of Sabri Brothers. I urge people to stay patient and tolerant," he said.


A great legend Amjad Sabri left us with tears in our eyes
Lets all pray for his Maghfirat.May Allah rest his soul in peace Ameen

— Umar Akmal (@Umar96Akmal) June 22, 2016
Shocked at the sad news of Qawal Amjad Sabri. What's the point of narrating the gory details of the hit on tv now that voice is lost. Sad!

— Ramiz Raja (@iramizraja) June 22, 2016
Dont have words 2 write..shocked on the tragic death of a person whose voice inspired millions around the world..a big loss #AmjadSabri #RIP

— Ahmad Shahzad 🇵🇰 (@iamAhmadshahzad) June 22, 2016




Rest in peace.
COMMENTS (2)
Comments are moderated and generally will be posted if they are on-topic and not abusive.
For more information, please see our Comments FAQ