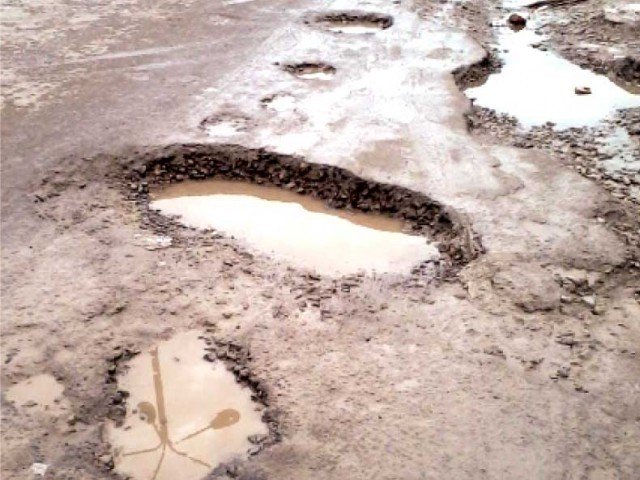 ---
FAISALABAD: DCO Momin Agha on Tuesday stressed the immediate need to rehabilitate dilapidated roads.

Agha made the remarks while visiting Faisalabad Garments' City near Khurarianwala along with FCCI President Muhammad Nawaz. He said the need to quickly revamp roads was particularly pressing in industrial areas.

This, the DC said, was crucial to facilitate the smooth and safe flow of imports and exports.

During his visit, Agha said road connectivity had a pivotal role to play when it came to facilitating quick movement of imports and exports.

He said that special initiatives would be taken to ensure that roads were immediately rehabilitated and maintained.

Nawaz said a two-kilometre-long portion of the Khurarianwala-Chak Jhumra Bypass near the garments' city had been a shambles since long. He said the dismal state of the road had literally made movement of heavy traffic impossible. Nawaz said this had compelled truck drivers to use an alternative road to access the area. He said this had exacerbated traffic woes across urban localities.

The FCCI president said activity in the vicinity of the bypass was exclusively industrial. He said the state of the bypass had also been deteriorating due to movement of heavy traffic. This, Nawaz said, was also impeding smooth flow of imports and exports.

He said a road linking Khurarianwala with Sahianwala was also a shambles. Nawaz said the link was yet to be repaired despite the passage of 12 years. He said industry in the area was primarily export-driven. Nawaz said the nature of business activity in the area required secure, speedy and reliable roads.

The FCCI president said foreign buyers had been visiting the garments' city in droves. He said the poor state of roads had left the city's image tarnished. Nawaz said rehabilitating the roads ought to be prioritised.

He said the lack of a road linking Jaranwala to Sargodha Road had also prevented the aforementioned bypass from becoming fully-functional. Due to the absence of such a link, Nawaz said, heavy traffic had to be rerouted across urban areas.

This, he said, increased pressure on already overburdened roads. Nawaz said traffic on urban roads would be reduced by 25 per cent if this was remedied.

The FCCI president said rehabilitating roads across the city's industrial areas would not only increase exports but also create greater job opportunities for the young.

Faisalabad Garments' City Chairman Rehan Bharara also spoke about the challenges confronting the establishment and asked for governmental support to overcome them.

Published in The Express Tribune, June 22nd, 2016.

 
COMMENTS
Comments are moderated and generally will be posted if they are on-topic and not abusive.
For more information, please see our Comments FAQ