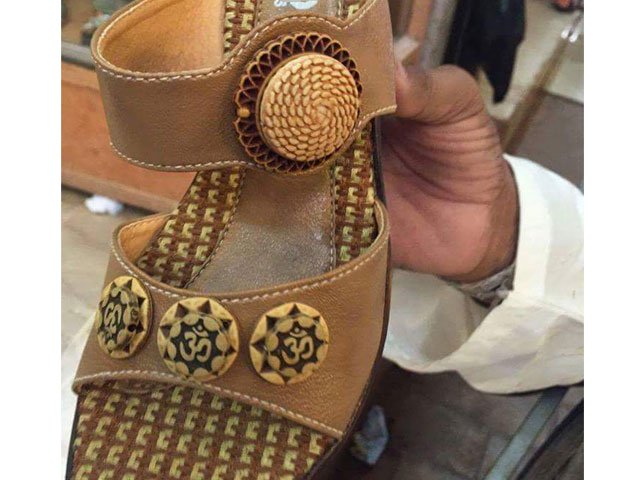 ---
ISLAMABAD: Sindh Police arrested a man under blasphemy laws on Monday for selling shoes with a sacred Hindu symbol, police and Hindu leaders said.

The shopkeeper, Jahanzaib Khaskhili, was arrested in Sindh's Tando Adam district and the shoes, which carried the "Om" symbol, were confiscated, said Farrukh Ali, the district police chief.

Hindu community leaders called for the shopkeeper to be punished. "The state must play a proactive role in punishing the culprits under the blasphemy laws," Ramesh Kumar Vankwani, the patron of the Pakistani Hindu Council, said in a statement.

Hindus object selling of shoes inscribed with 'Om' in Tando Adam

Tando Adam, about 200km northeast of Karachi, is in Sindh, where the vast majority of the country's approximately three million Hindus live.

The blasphemy laws make it a crime to insult any religion and have specific sections for defiling the Quran or insulting the Prophet Muhammad (pbuh) that carry a life sentence and mandatory death sentence, respectively.

If convicted, the shopkeeper faces a maximum of 10 years in prison, in addition to a possible fine. Ali, the police chief, said Khaskhili had cooperated with authorities and appeared not to have intended to inflame religious sentiment.

"We will do this according to law, but prima facie it seems that he did not have any intention," said Ali, adding that police were now investigating the supplier of the shoes, who is based in Punjab province.

Removal of hate material against minorities from curriculum stressed

"The responsibility in this case will be with the people who actually manufactured the shoes ... they would probably have done it intentionally," he said.

Rights groups say Hindus are often at risk of discrimination and hate crimes, including forced conversions and economic discrimination.

Vankwani had on Sunday raised concerns over some shopkeepers offering shoes with sacred Hindu names in Sindh. "Since the last three years on the occasion of Muslim Eid festival, some shopkeepers in Tando Adam are offering shoes on which Hindu religious holy name 'Om' is displayed," he said, adding "Its purpose is just to insult the sentiments of local Hindus."

Pakistan Hindu Seva, a group working for religious harmony in the country, had also urged the locals of Tando Adam to address the issue by remaining "within the jurisdiction of law to avoid any violence".
COMMENTS (18)
Comments are moderated and generally will be posted if they are on-topic and not abusive.
For more information, please see our Comments FAQ