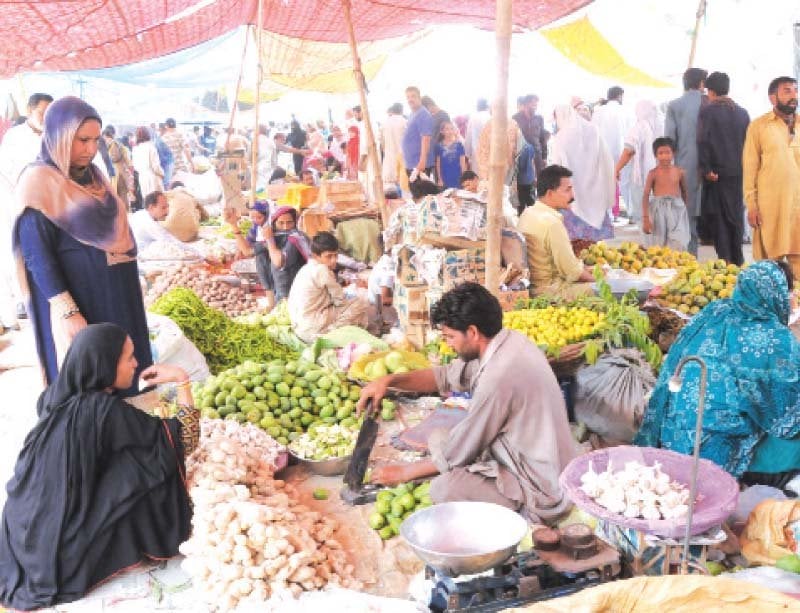 ---
LAHORE: Sale of unwholesome meat and expired food items has been reported from some Ramazan Bazaars in the metropolis.

Earlier, Livestock Department officials had seized over 36 kilogrammes of uncertified meat from Shadman Ramazan Bazaar.

The Punjab Food Authority (PFA) had also seized expired cooking oil from Gulshan-i-Ravi Ramazan Bazaar.

On Sunday, several shoppers protested over the sale of rotten meat in the Islampura Ramazan Bazaar. A customer had expressed concern over the quality of the meat. However, the vendor refused to address his concerns. A number of customers then protested against him. The district government officials then asked the vendor to remove the rotten portions and allowed the sale of the remaining meat.

Nadia Bibi, a shopper at the bazaar, said that the quality of chicken, mutton and beef on sale was not satisfactory. "It is very difficult to cook the meat purchased from Ramazan Bazaars," she said.

Another shopper said that in most bazaars vendors were selling substandard items. "I cannot understand why the government is spending its money on providing subsidy on such items. Vendors are selling sub-standard food products at the price of premium grade items," he said. He said that the government had made elaborate arrangements for monitoring the quality of products at the Ramazan Bazaars, but it was not producing the desired results. "It seems there has not been any improvement in the bazaars as compared to previous years, except for the air-conditioning," he said.

According to the price list issued by the Lahore Market Committee, potato prices rose by Rs4. It was selling for Rs32 to Rs35 per kilogramme. A sugar-free variety was available for Rs23 to Rs25 per kg. Onions were selling for Rs18 to Rs21 per kg.

Tomatoes were selling for Rs33 to Rs36 per kg. Desi garlic was selling for Rs130 to Rs140 per kg. A variety from Quetta was available for Rs150 to Rs160 per kg. Chinese ginger was selling for Rs77 to Rs84 per kg. The same was available between Rs90 to Rs100 in the open market. Bringle was selling for Rs23 to Rs25 per kg, desi cucumber for Rs26 to Rs30, farmed cucumber for Rs18 to Rs20 per kg, bitter gourd for Rs18 to Rs20 and spinach for Rs26 to Rs30 per kg. Most vendors in the open markets were selling spinach at Rs75 to Rs80 per kg.

Similarly, premium quality desi lemons were selling for Rs92 to Rs100 per kg. They were selling for Rs120 per kg in the open market. Pumpkin was available for Rs18 to Rs20 per kg. Lady finger was available for Rs23 to Rs25 per kg.

Published in The Express Tribune, June 20th, 2016.

 
COMMENTS
Comments are moderated and generally will be posted if they are on-topic and not abusive.
For more information, please see our Comments FAQ