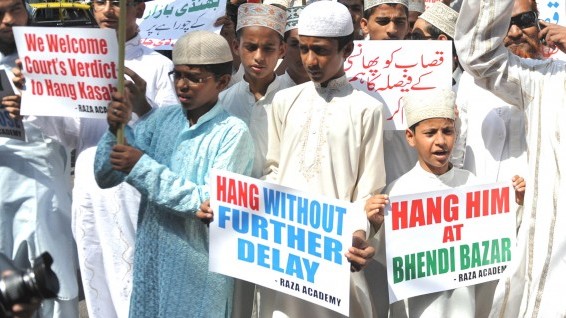 ---
NEW DELHI: Hanging 26/11 terrorist Ajmal Amir Kasab may be sooner said than done as the death sentence given by the special court in Mumbai Thursday will now have to be endorsed by the Supreme Court and, in case of a mercy petition, will require the president's assent.

The entire process could take years if not decades as there are at least 52 people still waiting for presidential assent on their execution, while nearly 300 others condemned to the gallows by lower courts are awaiting the apex court's endorsement, reported IANS.

As Kasab, the lone Pakistan-based terrorist caught alive in the Mumbai terror attack, has been tried under various charges of terrorism under India's latest anti-terror law, the Unlawful Activities (Prevention) Act, 2004, by a special anti-terror court, he will be entitled to approach the Supreme Court directly to challenge the trial court verdict, including his death sentence.

And even if the apex court conducts an expeditious hearing over his appeal, it is highly unlikely that the final decision in the case will be taken in less than five years, say legal experts.

For, even if the apex court decides in favour of the death sentence, Kasab will be entitled to seek a review of the verdict. And in case, if the apex court sticks to its stand, he may approach it a third time with what is known as a curative petition, raising some question of law.

In case the apex court again decides against Kasab, he will still have the freedom to approach the President of India with a mercy petition to seek commutation of his death sentence into life or outright release under Article 72 of the constitution.

The list of prisoners already condemned to the gallows in India but waiting presidential assent for execution includes Mohammed Afzal Guru, convicted for his role in the December 2001 parliament attack case.

Sources said Guru's mercy petition is still pending with the union home ministry to be processed and sent to the Rastrapati Bhavan for the president to take a decision on whether he should be sent to gallows.

Kasab's reaction:

"Mujhe kuch nahi kahna hai" (I don't want to say anything), was Pakistani terrorist Ajmal Amir Kasab's reaction just after he was sentenced to death for the Mumbai terror attack.

Kasab made the observation to defence lawyer K.P. Pawar when the latter asked him if he wanted to say anything in response to the sentence handed down by judge ML Tahaliyani, reported IANS.

"The court asked us, does the convict have anything to say? You can discuss and tell us," Pawar told reporters later, giving an account of the final moments of one of India's most high profile trials.

"I spoke to him. I asked him: do you want to say something? Kasab said: 'I don't want to say anything.' This I told the court."

Pawar was asked if the Pakistani proposed to challenge the death penalty. "I will get a chance (to again talk to him). These things will be decided (then)."
COMMENTS (2)
Comments are moderated and generally will be posted if they are on-topic and not abusive.
For more information, please see our Comments FAQ