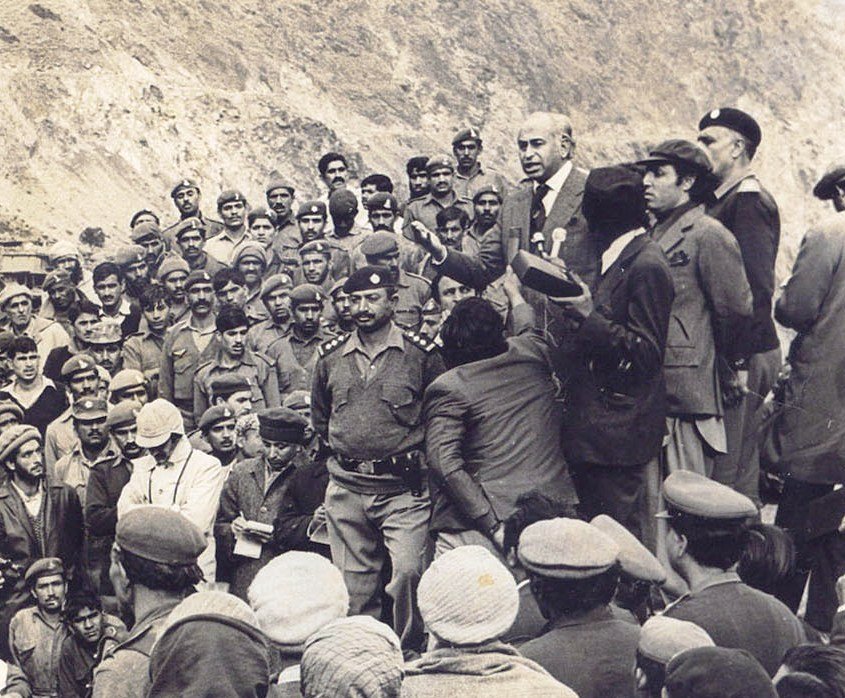 ---
Nearly over half a century after the establishment of diplomatic ties, China remains the greatest friend and ally Pakistan has known. With our alliance being forged during the height of the Cold War, there is one man I must credit above all others in fortifying and sustaining that relationship when it was at its most complex. He is the unsung hero of international politics and diplomacy, a man who never faltered in his devotion to democracy, equality and education. He was a man whose vision was decades ahead of its time and who serves as a towering figure of inspiration — the legendary Shaheed Zulfikar Ali Bhutto. His legacy of developing strong relations with China lived through his daughter and my late wife, Shaheed Benazir Bhutto, and continues to live through his grandson, Bilawal Bhutto Zardari. Today, Zulfikar Ali Bhutto's actions have left a mark on the world that very few appreciate outside of Pakistan. When writing his last testament, he regarded his hard work in building ties with China as his greatest achievement in foreign policy for he had the foresight to appreciate that China would eventually support Pakistan in its venture to counter India's nuclear monopoly in the subcontinent.

A reader may be led to ask as to what he did that led to the development of such a relationship with China that would later be described as "higher than the Himalayas, deeper than the oceans, stronger than steel, dearer than eyesight and sweeter than honey". Zulfikar Ali Bhutto was wise enough to realise that in the aftermath of the 1962 Sino-Indian war, Pakistani interests were clearly aligned with China and he moved to swiftly settle the Tran-Karakoram dispute in 1963 to ensure that a firm relationship was established. The Sino-Pakistani alliance was based upon much more than a common resentment of Indian encroachment; it was forged on the ideals of cooperation, mutual respect and trust. During Zulfikar Ali Bhutto's visit to Beijing in February 1972, he successfully negotiated an economic and military aid package, worth $300 million for Pakistan, and China also agreed to write off loans amounting to over $110 million. Through his diplomatic ingenuity, he took the centre stage when he facilitated the Sino-American diplomatic effort alongside Henry Kissinger. This effort directly led to President Richard Nixon's visit to Beijing in February 1972 and resulted in China being recognised as a permanent member of the UN Security Council.

The late Mao Zedong and Zulfikar Ali Bhutto personified the Sino-Pakistan alliance. The two statesmen were on very friendly terms — they were always able to make time to meet each other as is evident through the fact that Zulfikar Ali Bhutto was the last statesman Mao Zedong was photographed with. Imagine the progress Zulfikar Ali Bhutto would have made for the betterment of Pakistan and its allies such as China had he not been executed by the Ziaul Haq regime. General Zia was a man who sought to undo Zulfikar Ali Bhutto's life's work. However, Benazir Bhutto, successfully continued her father's legacy and secured an ever closer union with China when she was prime minister. She conducted two prominent state visits to China, including one which celebrated Mao Zedong's 100th birth anniversary.

I sought to continue her work when I was elected president of Pakistan and further cement this relationship as a service to the country. Only history and the people of Pakistan can judge the success of my achievements in this regard. With the rise of militant extremism, it is clear that Pakistan is willing to take all necessary measures to ensure its sovereignty and territorial integrity as well as that of our ally, China. Cooperation is at the heart of our relationship and no extremist or non-state actor has the will to match our resolve. During my tenure as president, China continued to demonstrate that it is our most valuable ally when after one of the worst floods that hit Pakistan in 2010, it provided us with aid and assistance worth over $250 million. It was through the groundwork laid during my tenure that we now see investments worth $46 billion being announced for the Gwadar port and for the China-Pakistan Economic Corridor (CPEC). Our alliance has reached new heights as these investments and free trade agreements will work to ensure mutual prosperity. The CPEC will prove to be the economic 'Great leap forward' of this generation and will determine the success of our economy in the early 21st century.

The Sino-Pakistan bond has proven to be essential in the development of Pakistan. China continues to provide assistance to us in maintaining our essential infrastructure. Major projects have been launched as a result of China's investments, including a Lahore-Karachi motorway, the further expansion of the Gwadar port and the construction of two 1,100MW nuclear reactors. Karachi and Gwadar provide for a strategic trade route from the Middle East and Europe to China through the new Silk Road. A well-maintained road linking Pakistan's ports to China will ensure that the latter's economy continues to grow. The people of Pakistan are eternally grateful to China's genuine interest in seeing our nation prosper. Prosperity for Pakistan definitely entails prosperity for China. It is at this time that we must also look back with gratitude to legendary statespersons like Zulfikar Ali Bhutto, Benazir Bhutto and Mao Zedong, which made this alliance possible.

Published in The Express Tribune, June 14th, 2016.

Like Opinion & Editorial on Facebook, follow @ETOpEd on Twitter to receive all updates on all our daily pieces.
COMMENTS (25)
Comments are moderated and generally will be posted if they are on-topic and not abusive.
For more information, please see our Comments FAQ