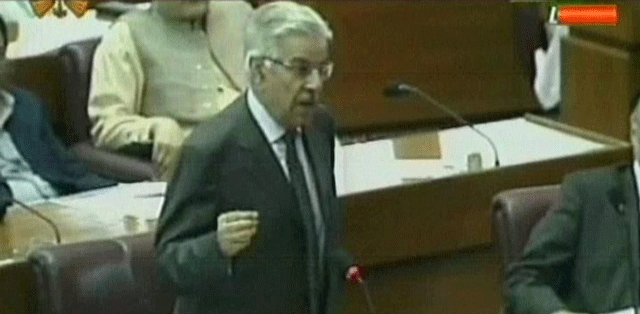 ---
Defence Minister Khawaja Asif on Thursday issued an unconditional apology to National Assembly speaker for jearing PTI leader Shireen Mazari in the house on Wednesday.

However, Asif did not name the PTI leader in his apology, causing the opposition to walkout from the assembly.

Ayaz Sadiq read out the written apology during the parliamentary session.




Ruckus in NA as defence minister calls Shireen Mazari 'tractor trolley'

However, Shireen Mazari refused to accept the apology, saying Asif must apologise to her, in the house and in front of all lawmakers.




Targeting the PTI leader, Asif on Wednesday, pointed towards Mazari and said, "Someone make this tractor trolley keep quiet" when she and other lawmakers protested to his speech on loadshedding during Ramazan.

Asif, who also holds the portfolios of water & power, ridiculed Dr Mazari for her appearance and unusual voice. Surprisingly, he stubbornly refused to apologise for his unprecedented taunt.

"I was heckled," the angry minister said justifying his abusive comments.

"It will be better if you first transform your masculine voice into a more feminine one," Asif told Mazari during a water and power discussion in NA.

Nisar failed in his plan to become prime minister, says Bilawal

Speaking to Express News, Mazari said, "It seems as if Khawaja Asif comes into the National Assembly with only one motive these days and that is to target PTI."

However, the PTI leader said the party will not keep quiet. "Being a minister, he should know how to speak to women, but sadly he doesn't. I choose to ignore such people," disappointed in her fellow lawmaker, Mazari said.

"An ill-mannered person is government's minister. Khawaja Asif lacks morals and ethics," she added.

National Assembly session

Meanwhile, addressing the session of National Assembly on Thursday, Asif said he tendered apology for his excessive behaviour,. adding no one should "seek refuge behind a gender."

"We preach gender equality but lose no opportunity to take refuge behind a particular gender as an act of convenience on such occasions," the federal minister remarked.

The minister added heckling was a part of the parliamentary culture and process and does not involve genders.

Rejecting the apology, Mazari said Asif did not mention her name while apologising, contrary to what he had done earlier.

However, the minister denied the same and offered to "apologise a 100 times if he had mentioned any names."

Nafisa Shah condemns Asif's 'sexist' remarks

Pakistan Peoples Party MNA Nafisa Shah said sexism was intolerable.




"If you continuously insult any of our colleagues on the basis of their appearance, voice and gender then it is not only the insult of that particular individual but the insult of the entire House," she said while addressing the National Assembly on Thursday.

"As women we felt insulted. Although he [Asif] didn't take [any] name but his continuous reference was clear and it was Sheeren Mazari. She was criticised on the basis of her voice and gender."


KhawajaAsif's derogatory remarks against #ShireenMazari r an insult 2 all women parliamentarians.He should have the moral courage 2apologise

— Nafisa Shah (@ShahNafisa) June 8, 2016


The opposition lawmaker also gave reference of a similar event in the UK parliament and asked the NA speaker to take action on the issue.

"Recently a UK parliamentarian had called the British Prime Minister David Cameron 'Dodgy Dave' during a parliamentary session upon which the speaker asked him to immediately retract his statement and apologise and when the lawmaker refused he was suspended and thrown out of the assembly," she said.

"We expect you as a speaker to take similar action."
COMMENTS (14)
Comments are moderated and generally will be posted if they are on-topic and not abusive.
For more information, please see our Comments FAQ