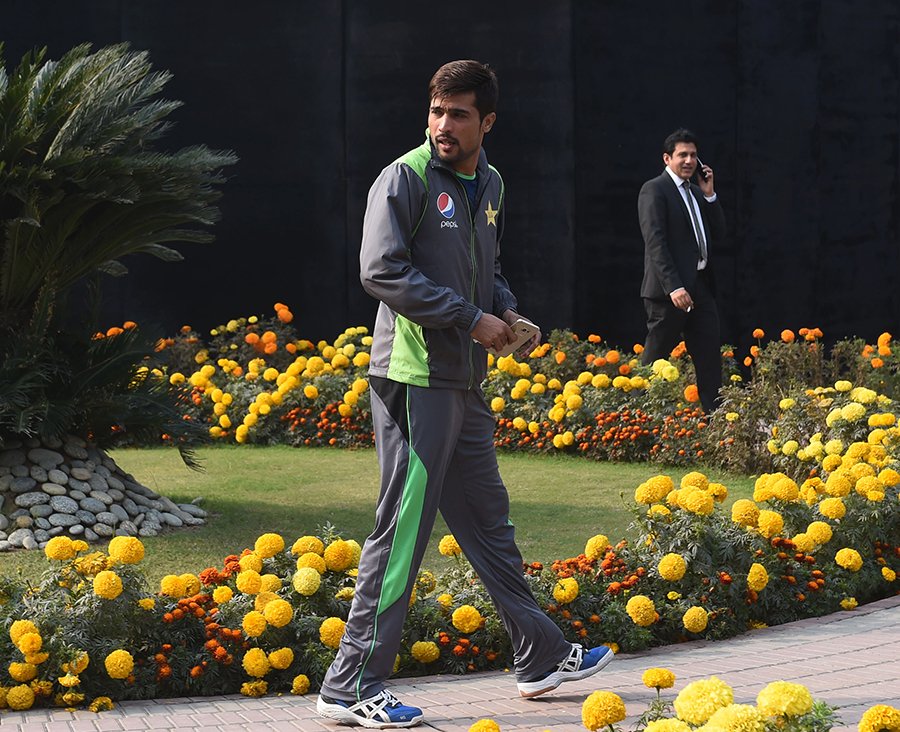 ---
LONDON: Stuart Broad has insisted he won't have any issues playing against Muhammad Amir should the convicted spot-fixer make his Test return at Lord's next month.

Lord's was the venue six years ago when left-arm quick bowler Amir and two Pakistan team-mates were involved in the deliberate bowling of no-balls as part of a newspaper 'sting' operation to demonstrate the trio's willingness to take part in spot-fixing.

A teenager at the time and one of world cricket's undoubted rising stars, Amir was sent to jail by an English court and banned from all cricket worldwide for five years.

He has now served that ban and, unlike 2010 Pakistan captain Salman Butt and fellow paceman Mohammad Asif, Amir has now been included in the squad for a four-Test series starting at Lord's on July 14.

'Unfit' Hafeez selected for England Test series

Team officials are optimistic the 24-year-old will receive his British visa in the next couple of days following a special request for leniency from the Pakistan Cricket Board.

That the 2010 match, which England won by an innings, is now best remembered for the spot-fixing controversy rather than Broad's impressive 169 -- his lone Test hundred -- could rankle with the England fast-medium bowler.

But Broad, speaking at an event organised by England sponsor Hardy's wine on Monday, said: "I don't think any feelings will be dragged into this Test match from that one.

"There are only four players in (this) England team from then, and Pakistan had a huge change-over.

"So I don't think any ill-feeling or negativity from the players will have carried through."

PCB shortlists 21 players for skill camp

Turning to Amir's possible return, Broad said: "I think he's served his time.

"For quality of bowler, I don't think there is much doubt that he is up there with anyone.

"I've not played him for six years, but in 2010 he was a constant threat and man of the series.

"It swung round corners for him."

However, citing the reaction of spectators at Lord's to England all-rounder Ben Stokes' controversial dismissal for obstructing the field in a one-day international against Australia last year, Broad said spectators at the 'home of cricket' may not welcome Amir back with open arms.

"The crowd might be a different story.

"There was a lively reaction to Ben Stokes' dismissal last year to Mitchell Starc, and it looked like a nasty atmosphere for a while."

PCB positive Muhammad Amir will be granted visa for England tour

As for his 2010 hundred -- which surpassed the highest Test score achieved by his father Chris, a former England opening batsman -- Broad does not feel it was tainted by the spot-fixing furore.

"I do look back at it, and I'm very proud of scoring a hundred at Lord's -- and beating my dad's highest score."

"It's certainly not devalued in my mind. I still scored those runs and (I'm) still on the honours board."

Nevertheless, he added: "I think the result was devalued. We couldn't celebrate -- we didn't celebrate -- it was all a very strange time.

"The one-day series that followed was quite unpleasant, and the crowds reflected the bad feeling."

The ongoing England-Sri Lanka series has seen Broad displaced as the world's top-ranked Test bowler by new-ball colleague James Anderson.

Anderson's 18 wickets in the opening two matches have been central to England going 2-0 up in a three-match series ahead of this week's third Test against Sri Lanka at Lord's starting on Thursday.

"It's a lovely accolade for our partnership that we've both managed to climb up the rankings like that," said Broad, who has now dropped down to third place in the standings.

"It's great to have a little bit of competition, and we are both really competitive guys."
COMMENTS
Comments are moderated and generally will be posted if they are on-topic and not abusive.
For more information, please see our Comments FAQ