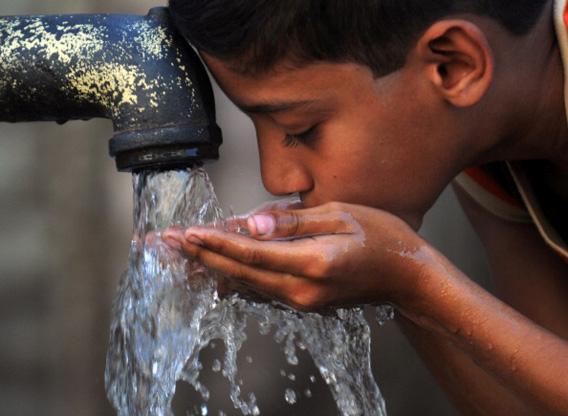 ---
LAHORE: The World Environment Day was observed in the City on Sunday with a pledge to encourage citizens to reduce the demand for illegal wildlife products and help protect endangered species. The theme designated by the United Nations for this year was 'Go wild for life: fight against illegal trade in wildlife'.

In his message on the day, World Wildlife Fund-Pakistan Director General Hammad Naqi Khan stressed the urgency and need for putting an end to illegal trade of wildlife. He said that action against illegal wildlife trade had become a high global priority with the United Nations General Assembly adopting a resolution last year urging all countries to make this a serious criminal offence.

Pakistan may run dry by 2025: study

"The flourishing illegal trade, if not curtailed, will rob the world of its natural treasures by pushing species towards extinction. We are at a crossroad where we must choose between mere lip service and plain old hard work towards eradicating this severe problem," Khan said.

He appealed to the government, civil society, businesses and individuals to press everyone to do whatever they could to stop the illegal trade of wildlife. According to WWF, illegal trade in wildlife is estimated to profit criminals to the tune of $23 billion annually worldwide. It comprises everything from the lucrative trade in tiger parts in East Asia to ivory from poached African elephants.

According to WWF, in Pakistan local species like the Indian Pangolin and freshwater turtles are also under a constant threat from poachers to be sold later in the Asian black market at high prices. In Lahore, WWF also presented a paper titled The Impacts of Over-exploitation of Resources on Domestic Consumers at Pakistan Engineering Congress (PEC).

The paper reviewed water as a resource impacting the social, environmental and economic conditions of peri-urban areas of Lahore and was viewed in the context of the tragedy of commons. The paper stressed the need for taking concrete measures to develop a strategy both on a local and national level to conserve the already depleting levels of water.

Severe water shortage irks Islamabad residents

WWF will also be screening a documentary on the plight of the endangered pangolin at an event organised by the Environmental Protection Agency on Monday (today) at the Punjab Auditorium.

According to Punjab Wildlife Department Director Naeem Bhatti, the integral part of the environment was not complete without a thriving wildlife in it. He said that the wild species and their wellbeing had direct impact on overall environment and "our environment is heavily co-associated with land usage trends".

Bhatti said the wildlife in Pakistan was facing four major threats –urbanisation, industrialisation, agriculture and deforestation – coupled with illegal hunting.

UN Environment programme executive director Achim Stenier said in a statement that thousands of species around the world were under threat and deserved attention. "But for this year, the UN will be focusing on eight endangered species for the cause: orangutan, sea turtle, pangolin, rosewood, helmeted hornbill, tiger, elephant, and rhino."

"It's a cycle of poverty and corruption that drives wildlife crime that we have to break," Stenier said.

Published in The Express Tribune, June 6th, 2016.