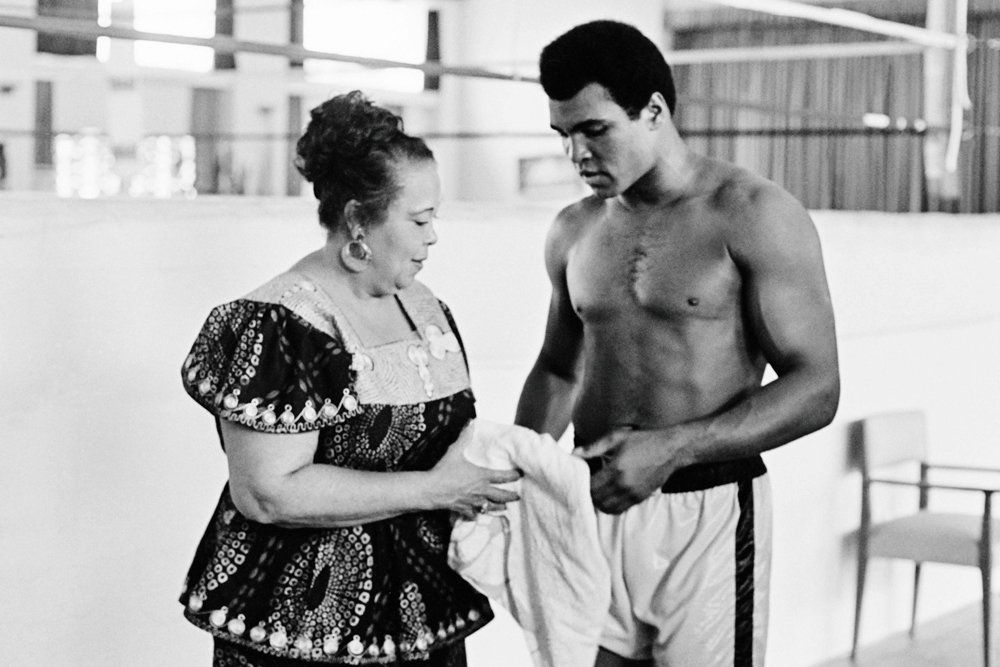 ---
One of the most charismatic sports figure Muhammad Ali passed away on Friday leaving the world mourning.

He called himself "The Greatest," and few disagreed. Ali was one of the iconic sporting heroes of the 20th century, the three-time heavyweight champion of the world who said he could "float like a butterfly, sting like a bee."

Boxing legend Muhammad Ali dies at 74

Ali, dazzled the boxing world as a youngster with his speed, never before seen in his weight class. He also rattled the established order with an equally quick wit and colourful personality that lifted him into the realm of super-stardom and ushered in the age of globally televised multi-million-dollar fights.

The legendary fighter spent his last years ravaged by Parkinson's disease but never retreated from public view and remained for 50 years one of the most recognisable people on the planet.

Muhammad Ali was alive for 74 years. He was the greatest. Is the greatest. Will continue to be the greatest.

As the world mourned, it remains evident there will never be another like him.


God came for his champion. So long great one. @MuhammadAli #TheGreatest #RIP pic.twitter.com/jhXyqOuabi

— Mike Tyson (@MikeTyson) June 4, 2016


https://twitter.com/MuhammadAli/status/738953942634233856


"He who is not courageous enough to take risks will accomplish nothing in life." Rest in peace #MuhammadAli

— Tim Cook (@tim_cook) June 4, 2016


Prime Minister Nawaz Sharif also expressed condolences to the family, loved ones and fans of boxing legend Muhmmand Ali, saying the "world was poorer without him."

"For the past half a century, he [Muhammad Ali] has been an inspiration for not only young Americans, but also young men and women of the world as a shining example of defying the odds with perseverance and a positive attitude," the Foreign Office quoted the premier as saying.


June 4, 2016


"His [Ali's] legacy has not only impacted modern boxing, he has also been an instrumental figure in changing social, political and religious narratives surrounding minorities in the West," Nawaz said. "For that, we are in his debt. The world is truly poorer without him," the premier maintained.

https://twitter.com/bilalkhan/status/738950433591418881


It was an honor to have you over - #MuhammadAli vist #Lahore #Pakistan 1988 #RIP #legend pic.twitter.com/EOzwjkE2SR

— US Consulate Karachi (@usconsulatekhi) June 4, 2016
Words can't describe how I felt about this man.... #CassiusClay aka #MuhammadAli.... #RIP #GOAT #LoveU pic.twitter.com/htNYp84Zvs

— Deontay Wilder (@BronzeBomber) June 4, 2016
#MuhammadAli is carried out of this world into eternity on the wings of Angels (RIP) pic.twitter.com/gXbY71k2bG

— salman ahmad (@sufisal) June 4, 2016
The greatest boxer of all times #MohammadAli has left this temporary world,condolence to family,friends & fans. RIP pic.twitter.com/gHjPwbB0fQ

— Saeed Ajmal (@REALsaeedajmal) June 4, 2016


https://twitter.com/catherinekelley/status/738972993070718976


When you remember him and eulogize him, remember how much he loved his Blackness. Don't whitewash his legacy. #MuhammadAli

— Luvvie is working on book 2 (@Luvvie) June 4, 2016
I couldn't have said it better! #RIH #MuhammadAli pic.twitter.com/LHDp55WTeH

— Tia A. Ewing (@TIA_EWING) June 4, 2016
#MuhammadAli #RIPAli ❤️#thechamp pic.twitter.com/vdtJwhTSi8

— Delta Goodrem (@DeltaGoodrem) June 4, 2016
You will be missed #MuhammadAli pic.twitter.com/zMIt8fkBj8

— Freddie Roach (@FreddieRoach) June 4, 2016
R.I.P Muhamed Ali 🙏🏽

An amazing talent.. An unforgettable sportsman and a legendary icon!#MuhammadAli pic.twitter.com/gq5JKkzsEU

— BEAST (@MrAshleyCain) June 4, 2016
When Muhammad met Malcolm #MuhammadAli pic.twitter.com/7PbE2399U8

— Pleasure Ellis™️ (@PleasureEllis) June 4, 2016
Rip Worlds greatest 👊🏻 #MuhammadAli pic.twitter.com/tXX7ZFwzjh

— Sébastien Ogier (@SebOgier) June 4, 2016
RIP to the best ever! #MuhammadAli pic.twitter.com/S2ij0MasuT

— Ilir Latifi (@Latifimma) June 4, 2016
I suppose you have to be a certain age to appreciate how unthinkable it is that #MuhammadAli is dead. Who was more alive than #MuhammadAli?

— Mick LaSalle (@MickLaSalle) June 4, 2016
Don't count the days. Make the days count. #Legend #MuhammadAli pic.twitter.com/GtA1NDET51

— Josie_maran (@josie_maran) June 4, 2016
Great man great loss ......and he boxed #MuhammadAli RIP @SkyNews breaking news

— Jacquie Beltrao (@SkyJacquie) June 4, 2016
The time #MuhammadAli beat Superman, then saved Earth from alien takeover. (Art by Neal Adams) pic.twitter.com/mFO26EGGuL

— Jeff Jensen (@EWDocJensen) June 4, 2016
"He who is not courageous enough to take risks will accomplish nothing in life"
-#MuhammadAli R.I.P. pic.twitter.com/3KYevYPltg

— Sasha DiGiulian (@sashadigiulian) June 4, 2016
Rest In Peace LEGEND! #MuhammadAli You were always a good role model and we will treasure your sportsmanship forever pic.twitter.com/JXsY6iplTf

— Enes Kanter (@EnesKanter) June 4, 2016
We are deeply saddened by the death of the legendary boxer #MuhammadAli. RIP the great one! #inspiration #strength pic.twitter.com/L0H4hPV3R4

— US Consulate Karachi (@usconsulatekhi) June 4, 2016
You Will Always Stand Tall among men! An Ovation to You and Your LIFE Champ! #MuhammadAli pic.twitter.com/2FpUW4YXBQ

— Marlyne Barrett (@barrettmarlyne) June 4, 2016
"The man who has no imagination has no wings" #MuhammadAli

— Scott Ian Lewis (@ScottIanLewis) June 4, 2016
I wake up to these words every morning 🙌🏽 ... You definitely did live your life as a champion. RIP #MuhammadAli pic.twitter.com/by40wY1uop

— Eden Silva (@edensilva) June 4, 2016


https://twitter.com/ishuberk/status/738975607132966913

https://twitter.com/GregScottTV/status/738975576984293381


The original GOAT is gone. I will never forget his vast legacy and the time he showed me a magic trick. #MuhammadAli Forever!!

— Rob Lowe (@RobLowe) June 4, 2016
Muhammad Ali is dead at 74! A truly great champion and a wonderful guy. He will be missed by all!

— Donald J. Trump (@realDonaldTrump) June 4, 2016
Muhammad Ali was not just a champion in the ring - he was a champion of civil rights, and a role model for so many people.

— David Cameron (@David_Cameron) June 4, 2016