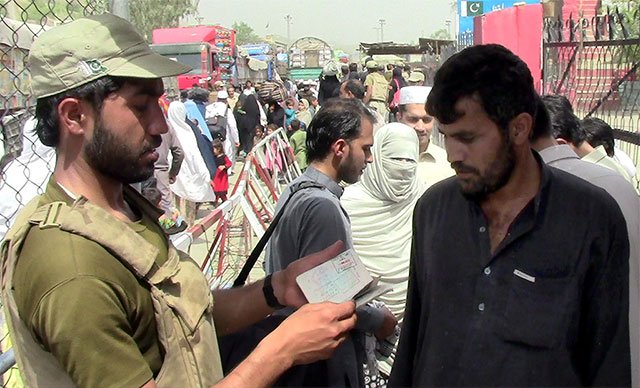 ---
LANDI KOTAL: The first border management system at Torkham, Khyber Agency, became functional on Wednesday. An official told The Express Tribune people who do not have a valid passport will no longer be allowed to cross into Pakistan.

"As per National Action Plan, Pakistani authorities have asked Afghan nationals to enter the country with valid and legal documents from June 1," he said. "The documents are also compulsory for approximately 300 students, who enter Pakistan every day to pursue their studies."

Pak-Afghan border to shed 'porous' tag soon

The move is part of a comprehensive project to secure the Durand Line that has been a bone of contention between the two neighbours.

Rewind

The Torkham border was shut down on May 10 for four days after Afghan forces blocked a Pakistani authorities' move to fence their side of the border. The Angoor Ada border post that was handed over to the Afghan defence ministry on May 21 as a trust building measure was closed for nine days by Afghan authorities.




The apparatus for the border management system has been set up at the Shaheed Mor check post. The Easement Rights of Divided Tribes along the Durand Line – an understanding reached between the British Raj and Afghanistan –allows tribes straddling the border to move freely. The agreement will only extend to the Shinwari tribe settled on both sides of the border – but that too within 20 kilometres of the border.

Afghanistan closes Peshawar consulate over 'harassment' of diplomats

There are more than 40 points on the Pak-Afghan border that have been exceeded by Pakistan or Afghanistan. However, security issues remain a determinant factor in resolving the problem. Pakistan has 535 border posts on the Durand Line against just 145 of Afghanistan. By this ratio there is one Pakistani border post at every two kilometres and an Afghan post at every 7.8 kilometres.

Published in The Express Tribune, June 2nd, 2016.