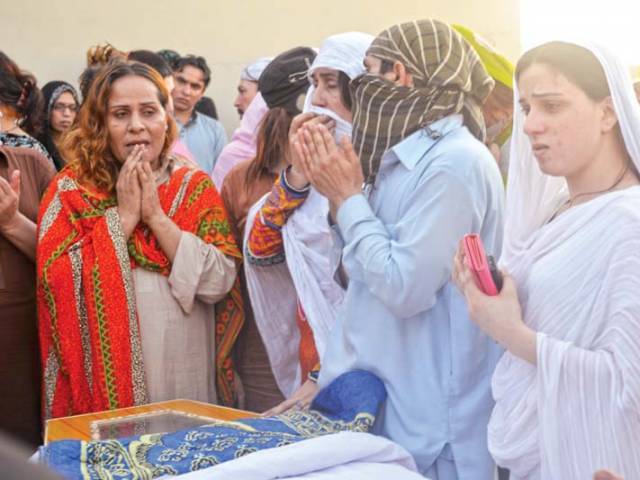 ---
PESHAWAR: The Khyber-Pakhtunkhwa TransAction Alliance and its members were approached by influential people who tried to convince them to strike a compromise with Alesha's murderer who was arrested by the police on Saturday.

While speaking to The Express Tribune, alliance members said those influencing them to "patch up" included a current and two former MPAs, besides local influential people.

"We are being forced to resolve the dispute soon after Fazal Gujjar was arrested by police," said a social activist. "Various political and non-political elites have been trying to approach TransAction Alliance head Farzana and Blue Veins Organisation," she added.

Another social activist said Farzana was not in agreement and asked them to contact Blue Veins Organisation for any further talks. "Farzana will most likely agree to a patch up since the entire transgender community is being threatened in the process," she added.

Not giving up

However, Farzana said she would never agree as she lost a family member. "If we give up today, then this will be the new norm for those who threaten to kill us every day," said a social activist, requesting anonymity. Blue Veins Organisation head Qamar Naseem also confirmed they were being pushed into striking a deal soon after the suspect's arrest.

"The issue is being probed by the doctor and a head nurse who were responsible for Alesha's death," said Qamar. "We want an independent committee, a lawyer, a representative of the provincial human rights directorate and journalists to report on hospital staff's negligence during Alesha's treatment," he added. "These very people have killed Alesha due to their negligence and are now being hired to probe the matter."

The committee was formed by the health department and orders were issued by the human rights directorate on May 27. "It has enquired into matters of human rights violations under K-P Promotion, Protection and Enforcement of Human Rights Act, 2014. "It is therefore requested that necessary be taken action on the subject according to the law," a human rights directorate letter addressed to the health department read.

Published in The Express Tribune, May 31st, 2016.
COMMENTS
Comments are moderated and generally will be posted if they are on-topic and not abusive.
For more information, please see our Comments FAQ