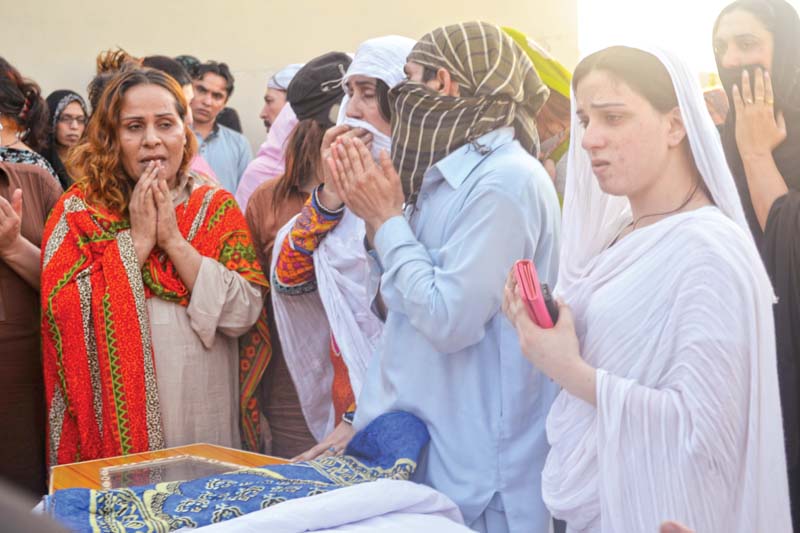 ---
PESHAWAR: Alesha's death triggered uproar in the city, especially among people of the transgender community and social activists.

Now that she is no more, those who knew her had no other way to express their grief but to cry their hearts out. Alesha's body lay on a charpoy surrounded by incense sticks and roses.

Transgender activist succumbs to injuries after being shot multiple times in Peshawar

When she was alive, Alesha would ask her family members to bury her in a graveyard that they could easily visit to offer a prayer. She knew that the society she grew up in had serious reservations against people who were transgender and did not approve of them frequenting public places, including the hospital where she breathed her last.

"I'm her mother and I will keep her promise by burying her in a graveyard where I can easily find her for offering a prayer," said Farzana, who fostered Alesha, like a mother does. "Alesha was a child when her parents kicked her out of her house – why is our life so miserable?"

Farzana said this sobbing at not only the demise of her daughter, but also at the helplessness they faced.

A shared grief

Alesha's funeral is billed as the first-ever public funeral for a person who is a transgender in the city.

"The people who invite us to partake in their celebrations should [now] not hesitate in participating in [the] funeral prayers [of one of our own]," Farzana said.

Transgender activist critically injured after being shot multiple times in Peshawar

The funeral was held at the residence of a social activist. Security was arranged at the time of the prayers in the evening.

However, scholars were already consulted by the prayer leader on whether the prayer should be offered or not.

He said Alesha was a Muslim and there was no harm in offering her funeral prayers.

"If we can offer the prayers of murderers and anti-social elements, why can we not offer prayer for a person who was transgender," he said.

"We had consulted many scholars who said there was no harm in doing so."

He told The Express Tribune they called Alesha a man during the prayers.

ANP Central General Secretary Mian Iftikhar Hussain also attended the final rites.

Irreparable loss

"I feel like Alesha had to leave this world to bring a change and raise a voice against injustice," said Farzana, who is also the president of Shemale Association of Khyber-Pakhtunkhwa.

She said it had never happened before. "I appreciate [the participation] and thank all the people who gathered for the funeral and arranged a coffin and grave."

One transgender gang-raped, two killed in Swabi

Farzana added, "We invisibles are being seen in the city now."

The other bereaved persons who are transgender were seen sitting on the ground, weeping and hugging each other to console for an irreparable loss.

Alesha was bid a final goodbye and laid to rest in Rehman Baba Graveyard, in Durrani Pur area on the outskirts of the city.



Published in The Express Tribune, May 26th, 2016.

 
COMMENTS (8)
Comments are moderated and generally will be posted if they are on-topic and not abusive.
For more information, please see our Comments FAQ