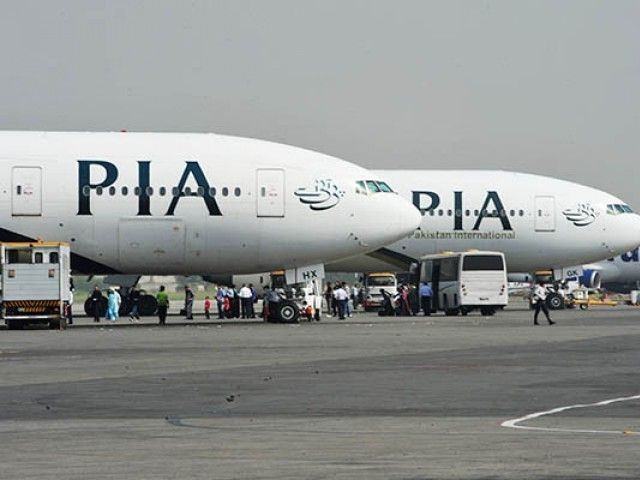 ---
KARACHI: Customs officials in Karachi recovered over 27kg heroin from a Pakistan International Airlines (PIA) aircraft during an intelligence-based raid on Wednesday.

Officials conducted the raid at Karachi's Jinnah International Airport, and seized nine packets of heroin from the lavatory of a Europe-bound aircraft parked in the hangar.

Smuggling bid foiled: 3kg heroin recovered from PIA's Dubai-bound flight

"It is an unfortunate incident and the airline's management is extending full cooperation to investigating agencies in addition to conducting its own inquiry," a PIA spokesperson said in a statement.


#PIA 2 extend full cooperation 2 investigating agencies regarding recovery of drugs frm an arcft at #Karachi airprt. pic.twitter.com/oepfwNDs8z

— Danyal Gilani (@DanyalGilani) May 25, 2016


PIA aircraft PK305 had arrived from Lahore on Tuesday and was scheduled to fly to Europe; however, it did not get the required permission from officials for the journey.

Last year, minutes after the flight had taken-off from the Benazir International Airport, one of the crew members spotted an unclaimed bundle of tissue rolls lying in middle of the aisle. Nobody claimed it when inquired.

ANF arrest 10 drug smugglers

"The pilot was informed, and they found heroin in the package. That's all we know at the moment," a PIA had official said.

There was approximately 3kg of heroin – worth enough to buy a villa in Dubai or go on a world tour.

Instead of taking the flight to its destination, the captain landed the aircraft at the Karachi airport where Airport Security Force took the bundle in its custody and sealed it.