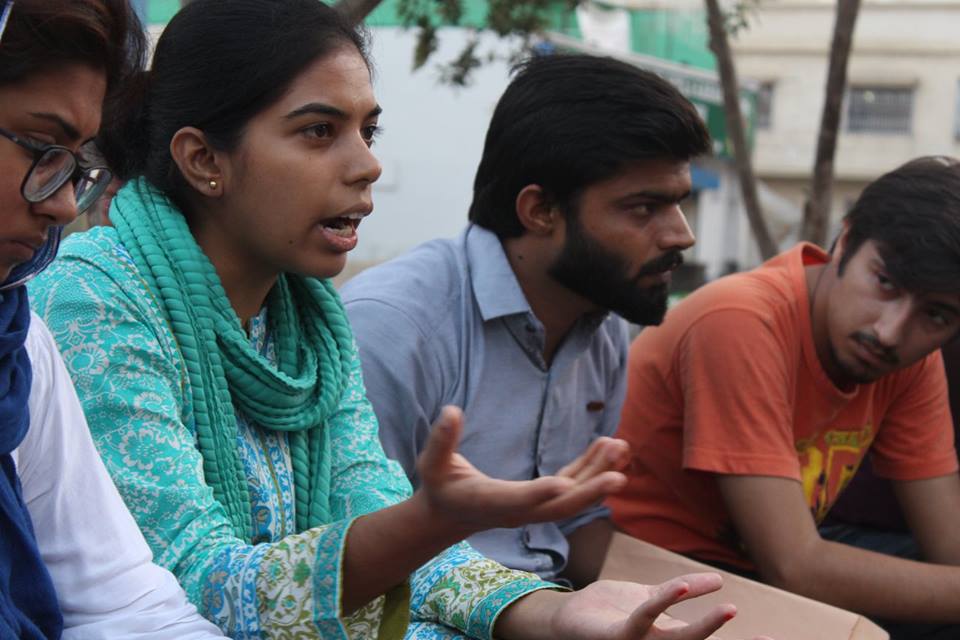 ---
KARACHI: She was sitting in the computer lab when a man outside the window began making gestures of sexual nature directed at her. Before she could confront him, he went away - only to be seen a few times again roaming around in her department.

"I couldn't ask him why he was roaming [around in my department]," she said. "But when I asked [other] people outside about what they are staring at, there was this immediate denial. Then, I also thought that if I confront [him], what will I do if I am alone and attacked?"

Stories of sexual harassment and personal accounts were shared by students and graduates as they sipped tea at a roadside dhaba in Gulistan-e-Jauhar on Saturday. The meeting was organised by the National Students Federation (NSF) to discuss the issue of sexual harassment at educational institutions and the legislation dealing with it.

Sexual harassment a bitter pill to swallow for KU

A student from Karachi University's (KU) Urdu department narrated how a visually-impaired teacher would always prefer to be held by the hand only by females and be escorted to class. During poetic discussions, he would make inappropriate jokes, telling a female student that her voice was so sweet that it wouldn't let the 'mehboob' [lover] go to sleep. Men at the discussion, such as a graduate of the Institute of Business Management (IoBM), also talked about how he often witnessed female students being harassed. He explained how the chief security officer at his university gate would loudly call out to females walking in. 'Your back is showing' or 'Your thigh is showing', he would shout at them.

Lacunae in legislation

At the meeting, the students also discussed the Protection against Harassment of Women at Workplace Act, 2010. NSF organiser Muzammal Afzal, who studies at KU, said that the law did not cover students. "It only gives protection to employees of a workplace but not students," he said.

Afzal and his comrades want amendments in the law. Guidelines of the Higher Education Commission (HEC) exist on sexual harassment, it doesn't call sexual harassment a criminal offence, he said. "It [harassment] is not declared a criminal offence and only calls for termination of the teacher," he explained.

The text of the Protection against Harassment of Women at Workplace Act of 2010, which is available online, does not contain the word 'student' even once.

Sexual harassment on campus

Defining harassment

The group also brought under discussion the definitions of sexual harassment and what it means to them. A student of Habib University said that anything against someone's consent can be called sexual harassment. Another said that harassment with sexual implications is what sexual harassment is. A psychological student said that harassment also entailed manipulative behaviour.

A Szabist graduate and lawyer, Mohammad Umer, said that sexual harassment can also be a verbal comment and it could also be someone invading your uninvited space. "When a person calls you and doesn't say anything, that can also be sexual harassment," he said. "But sexual harassment should not be confused with rape or assault. That is separate."

What to do next?

To raise the issue of sexual harassment and spread awareness, the group plans to hold street theatres, starting from KU. They also called for the revival of student unions, adding that a member of the student union be included in the inquiry committee investigating cases of harassment.

Students also felt that a lot of cases went unreported and the victims are defamed. One discussed a case when an Islamic history professor called female students to his room to discuss a trip they had arranged to Moen Jo Daro and ended up kissing and hugging them. "But, in the end, the victims were defamed and were the ones who ended up apologising."



Published in The Express Tribune, May 23rd, 2016.