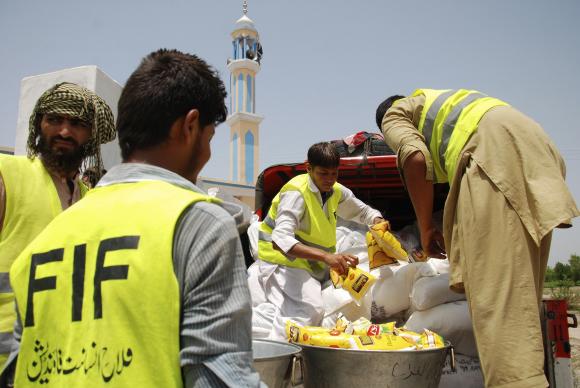 ---
KARACHI: It could be the dreaded visit to the graveyard or dealing with the police in the aftermath of a tragedy hitting your home. It could be a birthday that you never celebrated alone or a wedding that seems incomplete without someone's presence.

To help cope with loss, a group of volunteers has started a service called The Grief Directory, described as 'a bridge of compassion' on their website. "If there is someone to give you company, it sometimes means a lot," said Dr Fatima Ali Haider, who founded this venture along with Dr Narmeen A Hamid. They offer financial, legal and emotional help to the ones left behind along with helping them with regular tasks such as running bank errands.

Work for a cause, not applause

"It was one family in particular that touched me greatly when I visited the hospital in the wake of the blast in Lahore's Gulshan-e- Iqbal park," shared Rabeea Khan, a volunteer who is working with the families who lost their loved ones in the suicide attack. "It was the guard and his wife. They had lost all three of their children in the park that day. I feel they must be in need of our help the most."

Origins

Three years ago in Lahore, Dr Haider lost her husband and son, who were shot dead when her husband left home to drop their son at school. "An SHO called me to tell that my husband has been shot. Thirty minutes later I got another call that my son who had been hurt was gone too," she said.

Haider found herself taking up the roles that women are generally expected to in these situations — attending the mourners, making sure that everyone had eaten and were comfortable.  "No one asked me if I had given my husband and son a last look at the hospital. No one asked me how I was," she remembered. "In all honesty, I didn't even have the time to cry."

She remembered how painful it was to have dinner amid empty chairs on the dining table. It was not until a few months later when Dr Hamid, who was a friend of Dr Haider's husband, visited the family and came up with the concept of grief directory. "Fatima's personal recovery after this tragedy was slow and painful," recalled Dr Hamid. Her colleague agreed. At times like these you need someone who doesn't come with an emotional baggage, but someone with objectivity, with whom you share a certain sense of trust and comfort, said Dr Haider.

Beating the odds: University students lend a helping hand

Not alone

The venture that was launched last year is open for all cities across Pakistan. Their volunteers can be located in any city or town and the management will help the grieving families get them in touch. The group also welcomes volunteers who have expertise in medical or legal professions and are willing to spare some time.

"While there are others in our team who do reach out in terms of financial help, I work more towards the emotional and spiritual side," said Minahil Mehdi, who is one of the first volunteers to join the group.  Mehdi met one of the survivors of the Army Public School attack and was surprised to find out that she was the first one to approach the child, despite claims in media reports that the authorities were helping all survivors. "For people, just the act of asking how they were doing and letting them rant means a lot to them," she said.

Bridging gaps

So far, the group can only help the families when they reach out to them and they can find volunteers willing to help in the same city. "One of the affected families of the Shikarpur blast reached out to us from Karachi recently," pointed out Dr Haider.

Managing this group has also made her mindful of the risks associated with undertaking an unknown person as a volunteer. "We are coming up with a legal document that we will be adding to our website soon if, God forbids, such an incident happens," she said. "It is the element of fear that destroys the family really."

Published in The Express Tribune, May 21st, 2016.