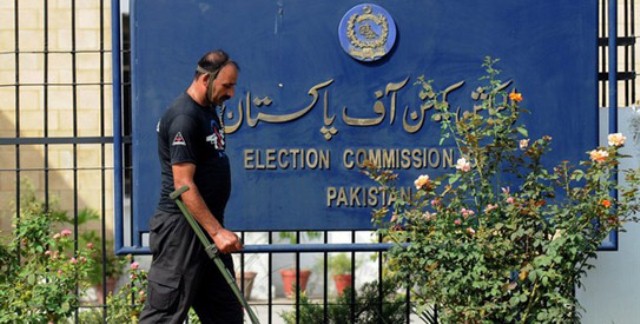 ---
ISLAMABAD: The National Assembly on Thursday unanimously passed a constitutional amendment, paving the way for senior civil servants and even celebrated technocrats to hold the office of the Chief Election Commissioner (CEC).

Federal Law Minister Zahid Hamid on Thursday introduced the 22nd Amendment Bill 2016 in the lower house of parliament, proposing amendments to Article 81, 213, 215, 216, 217, 218, 219, 221 and 222 of the Constitution, revising the eligibility criterion for appointing the CEC and members of the Election Commission of Pakistan (ECP).

No panacea: Without changes on the ground, 22nd amendment is 'ineffectual'

As many as 236 lawmakers (two-thirds majority) present in the lower house unanimously voted to pass the bill.

Previously, Article 213 (2) of the Constitution stipulated that only a person who is, or has served as a judge of the Supreme Court or a high court could be appointed as the CEC. Members of the ECP had to be judges of the high court as well.

The proposed amendments change that condition while introducing an upper age limit. "No person shall be appointed [Chief Election] Commissioner, unless he has been a judge of the Supreme Court or has been a senior civil servant or is a technocrat and is not more than 68-years of age," reads the amendment.

It identifies senior civil servant as someone who has served for at least 20 years and retired in Grade 22 positions. Similarly, technocrat is identified as someone who has 16–years of education from an HEC recognised University and at least 20 years of working experience including "a record of achievement at the national or international level."

Another important change introduced by the amendment relates to continuity of the Commission, where it discards the practice of all four ECP members retiring simultaneously. Instead, it introduces a system whereby only two of the members shall retire every two and a half years. The commission will draw lots on which two members shall retire after the first two and a half years.

NA passes amendment allowing civil servants, technocrats to fill CEC slot

The amendment also provides that delimitation of constituencies and preparation of electoral rolls for elections to local government shall also be the responsibility of the ECP.

The CEC and members of the ECP are appointed in consultation with the Prime Minister and leader of the opposition, and in case there is no consensus Amendment in Clause 2A of Article 213 says that "provided that there is no consensus between the Prime Minister and Leader of the opposition, each shall forward separate lists to a parliamentary committee for consideration which may confirm any one name."

Salaries and allowances of MPs

Earlier, the house passed a motion seeking substantial increase in salaries and perks of parliamentarians as proposed by NA Standing Committee on Rules of Procedures & Privileges.

Acting Chairman, Chaudhry Mahmood Bashir Virk moved the motion after approval of the amendments to raise salaries of MNAs and bring them at par with Federal Secretary (BPS-22) on May 17. During the meeting, Shugafta Jumani had proposed improvement in medical facilities for the members as well.

Lawmakers passed a monthly salary package of Rs470,000 for MPs. It includes a salary of Rs200,000, transport allowance of Rs50,000, utilities of Rs50,000, office maintenance of Rs100,000, constituency allowance of Rs70,000.

Further the road journey allowance has been increased from Rs10 to Rs20 per/km with the provision that a member be provided with vouchers which can be cashed for up to Rs30,000.

The number of return business-class air tickets for MPs have been increased to 30 with the provision that their family members can use the tickets as well.

Violating code of conduct: Election commission to issue notice to PM's adviser

Lawmakers had proposed the hike in their salaries after juxtaposing their salaries with members of Balochistan Assembly who get paid more than MNAs.

The amendment also upwardly revised salaries of Chairman Senate and Speaker NA to Rs400,000 and sumptuary allowance of Rs50,000 per month whereas the medical facility should be admissible to Member of Parliament in prescribed hospital. Deputy Speaker and Deputy Chairman Senate will now get Rs350,000 per month.

Published in The Express Tribune, May 20th, 2016.