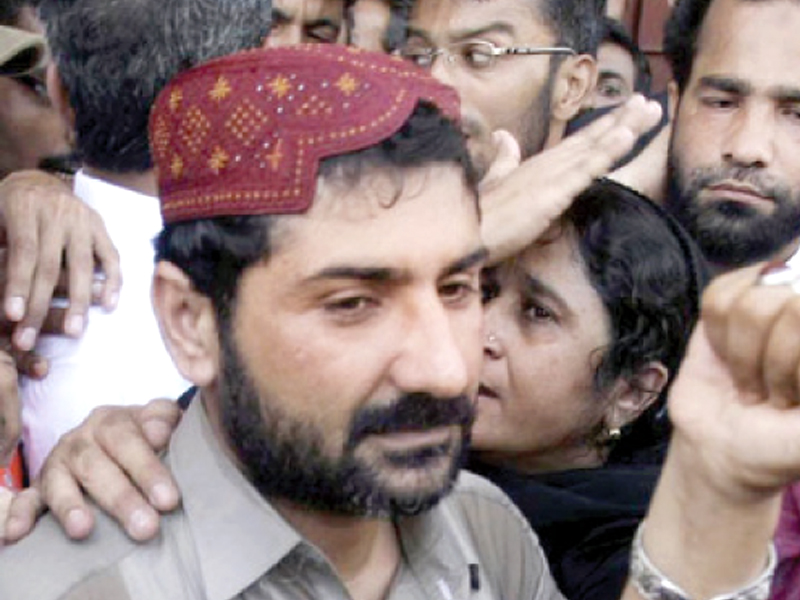 ---
KARACHI: An anti-terrorism courts' administrative judge allowed the police on Wednesday to investigate Uzair Baloch, the incarcerated chief of defunct Peoples Amn Committee, in the triple murder case of gangster Arshad Pappu and his aides.

Baloch has been nominated as the 'prime suspect' for the murder of his rival Pappu and two others. He allegedly had the trio kidnapped from their hideout in DHA and brought them to Lyari, where he and his associates publicly lynched them to death.

The plea to interrogate Baloch was moved before the judge by the investigating officer of the case, Inspector Abid Ansari. He submitted that Baloch's arrest was needed in the case as it had already reached the evidence stage in the trial court.

Around six suspects, including Pakistan Peoples Party lawmaker Shahjehan Baloch, police officers and a suspected gangster, have been charged with the triple murder and are facing the trial. Baloch is the seventh and the most important suspect to be tried in the case. The judge allowed Inspector Ansari to interrogate the suspect inside jail.

Baloch-Pappu rivalry

The rivalry between the two gangsters started in 2003 when Pappu, son a of notorious drug peddler Haji Lallu, killed a known Lyari transporter, Mama Faizu, the father of Uzair Baloch.

Through a timeline of more than a decade, the tension between the gangs grew stronger for a number of reasons involving the control of the streets deemed as territory by them. After the death of Rehman Dakait, Baloch became the new chief of his gang and, with his political connections, he garnered a lot of power.

It was in March 2013 when Pappu, his brother Yaser Arafat and an aide Jumma Shera were picked up allegedly by the police from a flat in DHA. It is said that the trio were having a party when they were raided. They were then driven to Lyari where their rival gangsters took their custody and brought them to a playground. A large crowd had already assembled there to witness the brutal end of a bloody rivalry.

It is said, and mobile-made videos also show, that the trio was beaten, lynched and killed by Uzair's men while he sat on a chair and watched.

Published in The Express Tribune, May 19th, 2016.