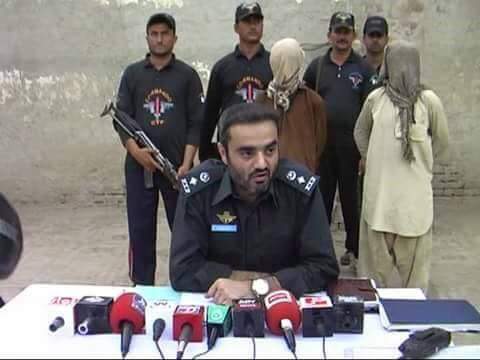 ---
ISLAMABAD: A day after the alleged suicide of Senior Superintendent of Police (SSP) of district Jaffarabad in Balochistan, his family has claimed that the police officer was murdered by influential people.

"SSP Jahanzaib Khan Kakar did not commit suicide," his brother Dr Aalamzaib Khan Kakar told The Express Tribune.

Media reports has claimed the SSP who hailed from Quetta and was posted at Jaffarabad in March, had committed suicide in his office. The police personnel while talking to someone on the phone placed a 9mm pistol on his temple and pulled the trigger, a private TV channel reported.

Jaffarabad police chief commits suicide

However, Dr Kakar said the circumstantial evidence collected by police surgeons indicated the officer was killed. "Initial autopsy reports prepared by the medical officer in Civil Hospital has also supported the views of the police surgeon," he added.

However, the investigation officer will have to wait for a forensic report on the samples forwarded to the laboratory for a final opinion.

The brother of the SSP while disagreeing with the notion of suicide, argued: "In case of suicide, the brain leaks out of the skull immediately. However, the police officials who reached the scene did not find any sign of brain leakage on the deceased." He added that the pistol used for suicide should have fallen to the ground due to recoil after the shot but in this case, SSP Kakar's pistol was found lying near his body.

He added suspiciously that the police guards, deployed close to the SSP office chamber had not heard the sound of pistol shots.

The deceased, who was buried in Quetta on Tuesday, belonged to a well-off family from Hana Orak, a picnic area located about 25km from the provincial capital.

Two killed, five injured in blast near Balochistan University in Quetta

The family has decided to file a criminal case, FIR (First Information Report) against unknown killers under Section 302 of the Pakistan Penal Code in a police station in Jaffarabad.

"My brother had been receiving threatening calls from some unknown people after he had recently arrested two persons of an influential family for being involved in a case of child abuse," Dr Kakar said.

The police officer had also received similar threatening telephone calls soon after he arrested few criminals of Khosa and Bugti tribes who had fled to Jaffarabad from Punjab's Rajanpur areas after the military operation against Chottu gang in April.