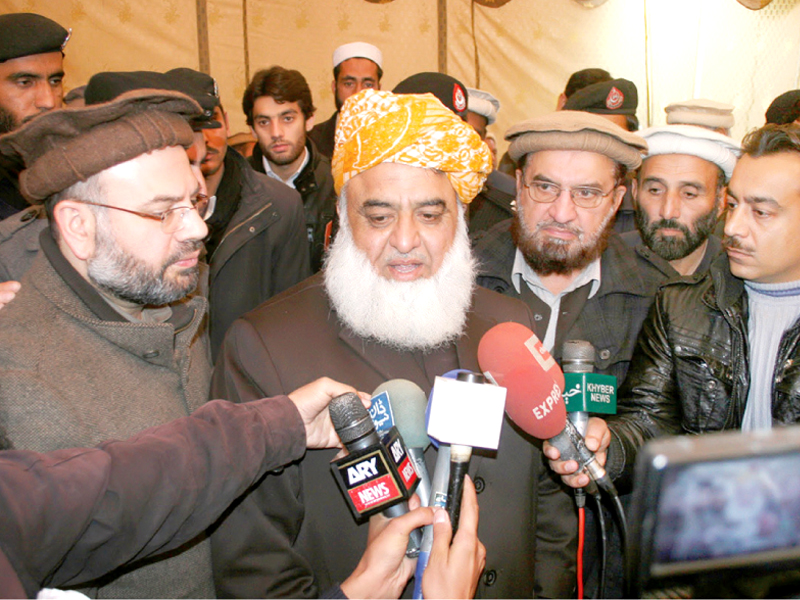 ---
ISLAMABAD: The Jamiat Ulemae Islam-Fazl (JUI-F), which rejected Punjab Protection of Women Against Violence, 2015, is learnt to have drafted its own women protection bill, conforming with Islamic tenets.

The Punjab Assembly passed the PPWVA in February this year. While the act included remedies for victims of violence, it also criminalises all forms of violence against women and also advised setting up special centres for victims. But, religious parties rejected the bill, terming it 'un-Islamic'.

JUI-F livid at passage of women rights bil

A senior JUI-F office-bearer told The Express Tribune that the party's legal team had finalized its own bill draft, adding that the draft had been forwarded to JUI-F's top leaders who will decide whether it should be made public before the provincial government called a meeting or not.

On April 5, Punjab Chief Minister Shahbaz Sharif formed a committee for suggesting amendments to the bill after JUI-F Chief Maulana Fazlur Rehman conveyed his reservations. However, talks between a committee formed by the government and religious parties remained inconclusive and deadlock persisted over the bill.

From the government's side, Punjab Law Department's deputy secretary and the secretary social welfare represented the committee which held its meeting on April 18.

The JUI-F office-bearer, who spoke on condition of anonymity, said that the draft had been finalised in consultations with other religious parties. Now, he said, the party was awaiting the committee's meeting, supposed to be called by the provincial government.

Religious groups say law protecting women from abuse 'un-Islamic'

The committee held only one meeting, which remained inconclusive after religious parties rejected the bill and urged the government to amend various 'controversial clauses'.

In the meantime, provincial law authorities appeared reluctant to remove clauses termed 'controversial' by the religious parties.

"We have finalised (the draft of) our bill, and forwarded it to (the party) leadership. Now, it is responsibility of the provincial authorities to call a meeting," said Kamran Murtaza, JUI-F team's legal member.

When asked to share details of the proposed bill, Murtaza only said that it was in conformity with Islamic principles, and that the proposed bill would be made public after the provincial authority called a meeting.

He said that the bill incorporated inputs suggested by various parties.

Women's protection law: JUI-F chief, Shahbaz agree to form panel

Jamaat-i-Islami's (JI) deputy Chief Asadullah Bhutto agreed with Kamran's assertions and said: "Rligious parties will never accept the controversial bill (passed by the provincial government)."

The government, Bhutto said, should either remove all controversial clauses or pass the bill drafted by the religious parties.

Published in The Express Tribune, May 18th, 2016.
COMMENTS (2)
Comments are moderated and generally will be posted if they are on-topic and not abusive.
For more information, please see our Comments FAQ