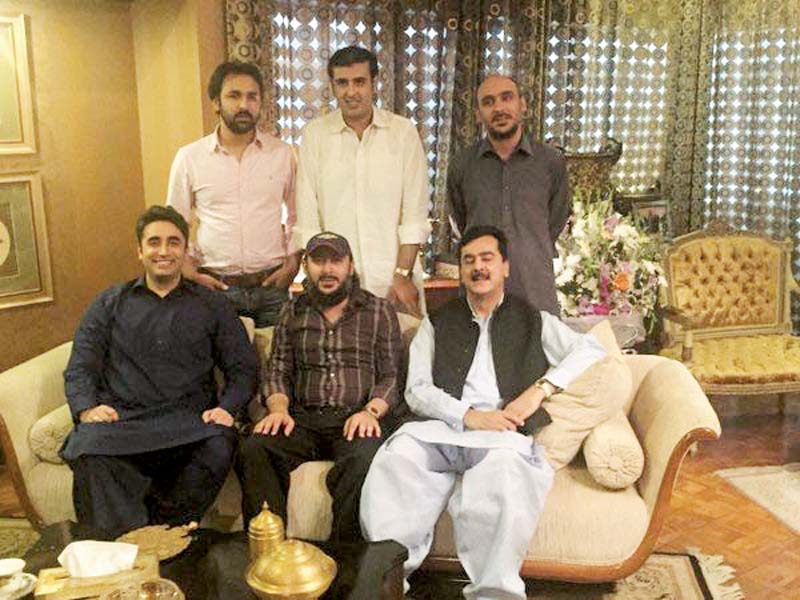 ---
LAHORE/ISLAMABAD: Three years after his abduction from his hometown, Ali Haider Gilani, son of former prime minister Yousaf Raza Gilani, finally reunited with his family on Wednesday amid jubilations and a sense of relief.

Ali Haider –seized by militants on the outskirts of Multan on May 9, 2013 – was freed on Tuesday by Afghan and US forces during a raid on an al-Qaeda cell in Afghanistan's Paktika province.

When Ali Haider Gilani – clad in a pink shirt and wearing a long beard and baseball cap – entered the Lahore airport lounge, he prostrated on the floor in gratitude as a large number of charged Pakistan Peoples Party (PPP) activists chanted slogans and showered rose petals.




Later, he was rushed in a black SUV to his father's Lahore residence in a convoy of supporters, police personnel and the PPP leaders. A number of PPP workers and media persons had already gathered in front of his house when Ali's vehicle pulled up.

Addressing reporters outside the house, Ali's brother Abdul Qadir Gilani said, "My brother saw a tough time during captivity. He was forced to watch slaughtering of people."

Abdul Qadir thanked the Almighty for Ali's safe recovery and said it was a difficult time for the whole family. However, he refused the question about ransom money paid to the captors. His father, Yousaf Raza Gilani, was absent from the reunion, with television channels reporting his appearance in a court in Islamabad in connection with a corruption case.

However, Gilani reached his residence in the evening along with PPP Chairman Bilawal Bhutto Zardari and Bakhtawar Bhutto and met Ali Haider. Bilawal congratulated the Gilanis and said it was a good sign that after recovery of Shahbaz Taseer, Ali was also safely recovered.

"A good time of the PPP has begun," Bilawal said.

Ali's recovery comes two months after the kidnapped son of slain Punjab governor Salmaan Taseer was also freed. Shahbaz Taseer spent five years in militant captivity before his abrupt release in March.

Talking to media, Gilani thanked the Afghan and US troops for rescuing Ali. "The terrorists sometimes phoned me and sent vicious messages about my son's fate. Thanks God, he has been recovered" he said.

Earlier, a special plane provided by Prime Minister Nawaz Sharif flew to Kabul to bring back Ali Haider. According to Foreign Office, the freed son of former premier was handed over to Pakistan's Ambassador to Kabul Abrar Hussain by the Afghan authorities.

"Thereafter, they were taken to the airport by a helicopter for onward travel to Lahore," the statement said, adding that Ali's brother and staff of Foreign Affairs ministry accompanied him on his journey.

Talking to the media at a ceremony in Kabul earlier Wednesday, Ali Haider appreciated the Afghan forces' efforts for his release.

"I would also like to thank the US forces which at the critical moments of my release provided me with shelter, food and medical care. And, at this time, I am looking forward to be reunited with my family, just getting back to normal life," he said.

According to Nato, Ali Haider was rescued in the Giyan district of Paktika province on Tuesday by US Special Operations Forces and Afghan commandos. However, previous reports indicated that he was recovered in Ghazni. He was kidnapped on May 9, 2011, from his hometown Multan when he was campaigning for the parliamentary polls.

Published in The Express Tribune, May 12th, 2016.