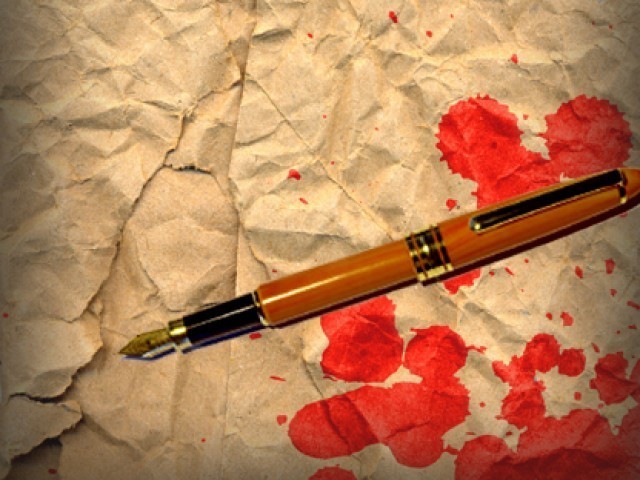 ---
KARACHI: Around 119 journalists have been killed in the last 15 years in Pakistan, shared Reporters Without Borders representative Iqbal Khattak, at a conference on the safety of journalists and combating impunity in commemoration of World Press Freedom Day on Saturday.

Reporters Without Borders is a non-governmental organisation that promotes and defends freedom of press.

Participants at the event, organised by Triple-E in collaboration with Karachi Press Club, discussed various issues confronted by journalists and demanded complete independence in editorial policy.




Senior journalists and TV anchors dwelt at length on legislation for the protection and safety of working journalists at the conference. They expressed dismay over the role of government as well as media owners for failing to provide security to workers.

Khattak drew the participants' attention towards the inclusion of journalists' safety in the global development goals of 2030. "It is a good omen that protection of media and safety of journalists have now been included in the list of other development goals," he said.

Talking about the threats against journalists, he said two journalists, including a woman, are still missing in Pakistan. "These kinds of incidents are on the rise, apparently because people involved in such incidents have not been punished," he said. He added that if the media is not protected and independent, democracy cannot flourish.

Javed Chaudhry, a television show host at Express News, suggested introducing laws for the protection of journalists.

According to journalist Quatrina Hosain, independent journalism has now been strangled to death. "Every other day, policies are being changed by media houses because of their business interests and we are working under constant fear," she remarked.

She added that TV channels are promoting sensational issues instead of thought-provoking debates. Hosain further called upon all her male counterparts to encourage female reporters in the media industry.

The participants of the conference stressed the need to get rid of the elements that always affect media houses' policies.

Senior journalist Idrees Bakhtiar was of the view that freedom of press has now become synonymous with independence of 'owners' instead of journalists. "[It's not just in] Third World countries. Media is also not free in developed countries, including Europe and America," he said.

"The media in developed countries focuses on Third World countries' issues instead of focusing on their own problems," he said. He further suggested capacity-building of reporters and the desk.


Talking about the Right to Information bill, senior journalist M Ziauddin said the federal and provincial governments should take the initiative to adopt this law. "The bill is drafted but it is biting the dust in the National Assembly," he said, adding that the media should start an awareness campaign about the issue, as is being practised in India.


Published in The Express Tribune, May 9th, 2016.