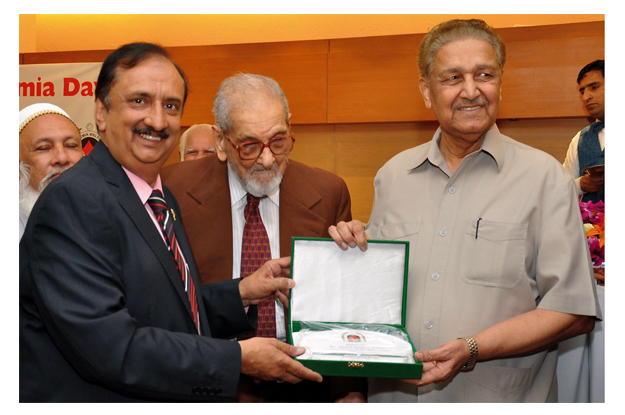 ---
ISLAMABAD: Speakers at a seminar on Saturday stressed over the need for special attention towards thalassaemia patients to make them useful members of the society.

Pakistan Thalassaemia Welfare Society organised the seminar in connection with World Thalassaemia Day, attended by over 80 thalassaemia children patients and their parents.

Speaking on the occasion, chief guest, Dr Abdul Qadeer Khan said collective efforts were required to overcome this disorder by creating awareness among the masses to get blood screening before marriages and promoting culture of donating blood.

He said thalassaemic children needed special attention. He further stressed on the need for promoting and encouraging these children to make them a useful part of the society.

President Pakistan Green Task Force Dr Jamal Nasir stressed that it was the need of the hour to free the country of the disease by raising awareness among general public about its prevention.




"Countries like Greece, Cyprus and Italy have overcome the disease by raising awareness and adopting precautionary measures. Now these countries are thalassaemia free countries," he added.

Lt Gen (r) Faheem Ahmad Khan, President Pakistan Thalassaemia Welfare Society, also spoke on the occasion and counted for the efforts of the society in helping thalassaemaemics in getting treatment. He requested that legislation should be made for the prevention of this disease, said a press release.

Dr Abdul Qayyum Awan delivered a brief lecture on prevention of the disease.

Lt Gen (R) Kamal Akbar and Murtaza Burhani also addressed the audience and stressed on the need of importance of blood donation for the thalassaemaemics.

Children presented a number of tableaus and variety shows. At the end of ceremony, the chief guest distributed shields among the doctors for their prominent performance.

Published in The Express Tribune, May 8th, 2016.