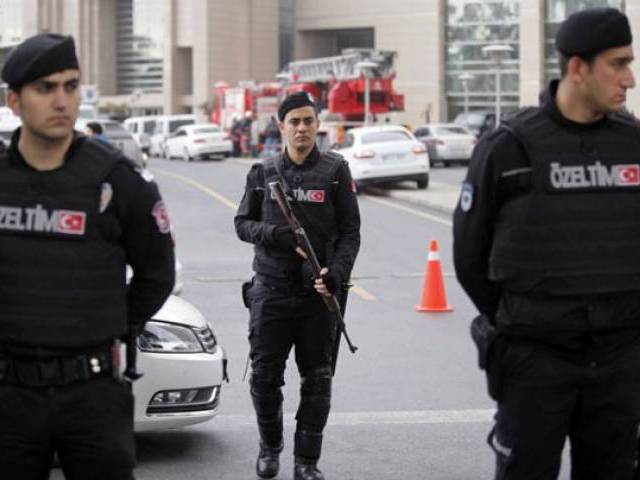 ---
ISTANBUL: A police officer was killed and 13 people, including nine police officers, were wounded in a car bomb attack at a police headquarters in Turkey's Gaziantep, one of two attacks on Sunday, security sources and the provincial governor said.

Footage from CNN Turk broadcaster showed pieces of a wrecked vehicle near gates of the police headquarters on a street in the southeastern city where several other provincial government buildings are.

Female suicide bomber wounds seven in Turkey's Bursa

Several ambulances and fire engines were at the scene of the blast which a correspondent for the broadcaster said was felt across the city. Windows in nearby buildings were shattered.

Gunfire was heard at the time of the explosion and a second car was reported to have been driven away from the scene, CNN Turk's correspondent said.

There was no immediate claim of responsibility.

Turkey is facing security threats on several fronts. As part of a US-led coalition, it is fighting Islamic State in neighbouring Syria and Iraq and battling Kurdish PKK militants in its southeast, where a 2-1/2-year ceasefire collapsed last July, triggering the worst violence since the 1990s.

The province of Gaziantep, bordering Islamic State-held Syrian territory, is home to a large Syrian refugee population and there have been multiple police raids on suspected Islamic State militants there over the past months.

Turkey blames IS for Istanbul suicide blast

Also on Sunday, several hundred miles eastwards along the same border, in the town of Nusaybin, three Turkish soldiers were killed and 14 others wounded in an armed attack by Kurdish militants during a military operation, an army statement said.

A wave of suicide bombings this year, including two in its largest city Istanbul, have been blamed on Islamic State, and two in the capital Ankara were claimed by a Kurdish militant group.

Last week a female suicide bomber blew herself up next to a mosque on a busy street in Turkey's fourth largest city of Bursa, wounding eight people.

Turkey has also faced attacks from far-left groups, mostly on police and security forces.