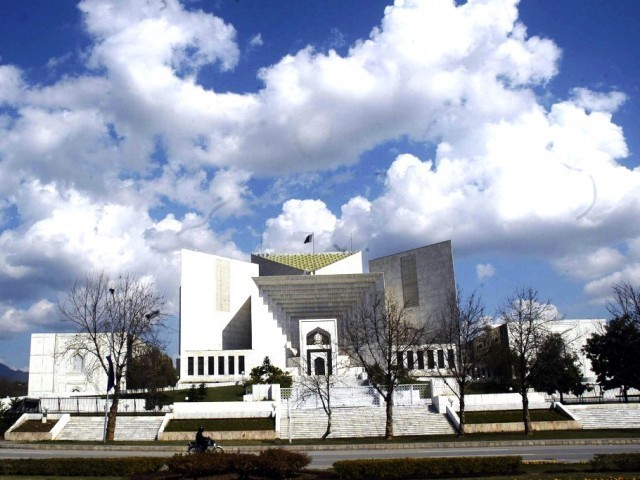 ---
ISLAMABAD:



A lawyer has gone to the Supreme Court, requesting swift disposal of the complaints against superior court judges pending with the Supreme Judicial Council (SJC), which recommends action against guilty judges.




On Saturday, Pakistan Bar Council's Raheel Kamran Sheikh filed the constitutional petition seeking orders for expeditiously disposing of the references. The petitioner has requested the court to disclose the total number of complaints received against the judges as well as the disposal ratio since the council was constituted.

The top court has also been asked to consider and pass orders to restrain the guilty individuals from performing their duties as judges in all cases where the SJC deems it appropriate. Through the enactment of Article 209, the SJC was established to inquire into complaints against superior court judges of misconduct or inability to perform duties for reasons of mental or physical incapacity.

This is the first such constitutional petition filed against the SJC in the Supreme Court.

The petitioner has requested considering the queries related to public importance with reference to the enforcement of fundamental rights enshrined in articles 9, 10A and 19A.

"It is noted with great distress the SJC has been barely functional since its establishment," the plaintiff stated. "Notwithstanding the position that every citizen has a fundamental right to have access to information in all matters of public importance, the basic information regarding the total number of references and current status of those has not been disclosed by SJC."

Besides violating Article 19A, this also leads to an apprehension of violation of other fundamental rights of citizens, including the right to fair trial and the right to due process, as embodied in Articles 10A and 9, Raheel stated.

The petition also indicated the issues of pendency and non-disclosure have been repeatedly pointed out by the Pakistan Bar Council and a resolution was also adopted requesting the SJC to decide the references without delay.

The petition also conveys serious reservations of the legal fraternity and citizens over the "inoperativeness, dysfunction and silence" of the SJC.

"To say that judges must be independent enough to render impartial justice and resist intimidation is not to say that they must be so independent as to be unaccountable, for judicial accountability is a cardinal principle of any system," the petitioner stated.

Published in The Express Tribune, May 1st, 2016.
COMMENTS
Comments are moderated and generally will be posted if they are on-topic and not abusive.
For more information, please see our Comments FAQ