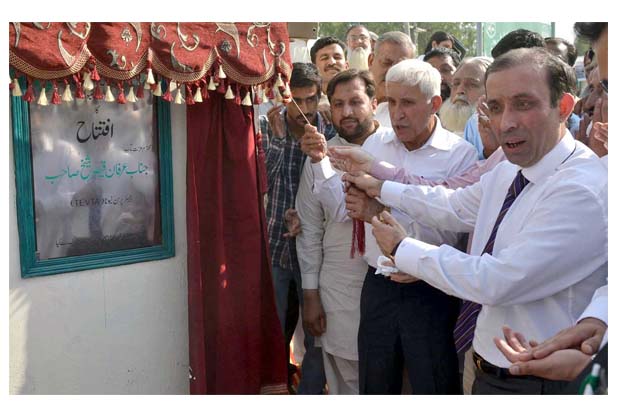 ---
LAHORE: National Assembly (NA) Standing Committee on Finance, Revenue, Economic Affairs, Statistics and Privatisation Chairman Qaiser Ahmed Sheikh on Saturday commended the Technical Education and Vocational Training Authority (TEVTA) for establishing state-of-the-art institutes and upgrading existing ones.

He made the remarks while speaking at the inauguration of the Government Technical Training Institute. The MNA praised the authority for introducing demand-driven courses on the counsel of various stakeholders. Sheikh said the foremost aim of the Tevta—to impart skills to as many people as possible—would go a long way to alleviate poverty across the province.

The MNA said this would also help eradicate terrorism. He said the government had been striving to ensure the supply of skilled manpower to help them obtain better jobs in Pakistan and abroad. Sheikh said the government was leaving no stone unturned to facilitate the provision of jobs to the young. Besides striving for this nationwide, he said, efforts were being made on an emergency footing to satisfy the demand for skilled manpower across Qatar and the United Arab Emirates (UAE) following a directive by Prime Minister Nawaz Sharif.

Sheikh said it was imperative for the young to acquire technical education in keeping with the demands of present times. In the past, he said, people had been lukewarm to the idea of adopting technical professions. Even today, the MNA said, the young aspired to obtain white collar jobs and were averse to working in factories or undertaking work that required physical labour. Sheikh said this was also one of the reasons behind unemployment across the nation. He said the nation's young would be in a position to secure jobs without resorting to nepotism if skills were imparted to them.

Tevta Chairperson Irfan Qaiser Sheikh said the authority had been devoting great attention to securing jobs for its graduates. He said Pakistan had grabbed international attention as an investment destination courtesy its strategic location. Sheikh said foreign countries had prioritised expanding the scope of their business interests in the nation.

The Tevta chairperson said the authority had been introducing demand driven courses in accordance with the vision of Chief Minister Shahbaz Sharif to facilitate the immediate provision of respectable jobs to the young. He said those enrolled at short courses were paying no fee. Sheikh said they were also being given monthly stipends of Rs1,000 each.

Sheikh said arresting unemployment was an issue of national importance. He said the lacklustre imparting of technical education was one of the reasons behind unemployment. Sheikh said only the provision of skilled manpower could ensure national development.

He said the people ought to take greater interest in vocational education to cement the nation's technical and economic prowess.

Published in The Express Tribune, May 1st, 2016.
COMMENTS
Comments are moderated and generally will be posted if they are on-topic and not abusive.
For more information, please see our Comments FAQ