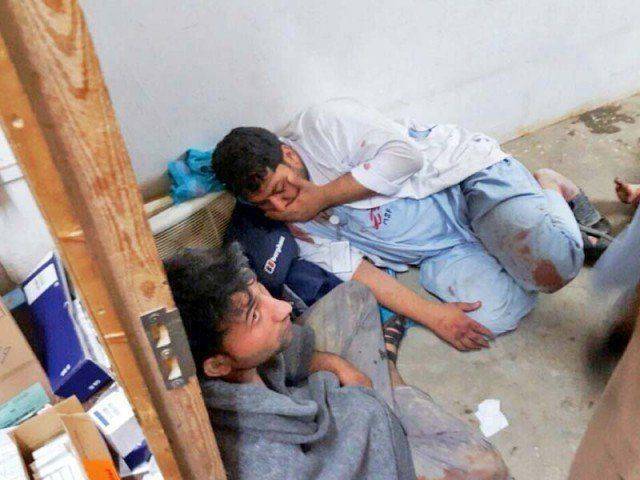 ---
WASHINGTON: US forces attacked a Doctors Without Borders hospital in the Afghan city of Kunduz last year after a series of errors and will be disciplined, but they did not commit a war crime, their commander said Friday.

General Joseph Votel said that on October 3, 2015, the crew of an AC-130 gunship had taken off earlier than planned without a list of protected sites and had been mistakenly guided to bombard the Kunduz trauma center.

The general, head of US Central Command, said that 12 of the personnel involved -- commanders, flight crew and a special forces team on the ground -- had been suspended or removed from command and four others were reprimanded.

US commander apologises for Afghan hospital bombing

"The investigation concluded that certain personnel failed to comply with the rules of engagement and the law of armed conflict," he said, announcing the results of a lengthy probe into the strike, which killed at least 42 people.

"The investigation found that the incident resulted from a combination of human errors, process errors and equipment failures and that none of the personnel knew they were striking a hospital."

Votel said that a US special forces group accompanying Afghan forces had called for air support after four days of heavy fighting against the Taliban guerrillas who had overrun the northern city.

The AC-130 crew, which had recently come under fire from a ground-to-air missile, had targeted the hospital by mistake, believing it to be a Taliban occupied building that was a quarter of a mile away.

Activists slam US 'punishments' for Afghan hospital attack

"Our forces did not receive fire from the trauma center during the incident nor did the investigation find that insurgents were using it as a base for operations," he said.

"Some insurgents were treated at the trauma center, but hospitals and patients are protected on the battlefield. The trauma center was a protected facility, but it was misidentified during this engagement."