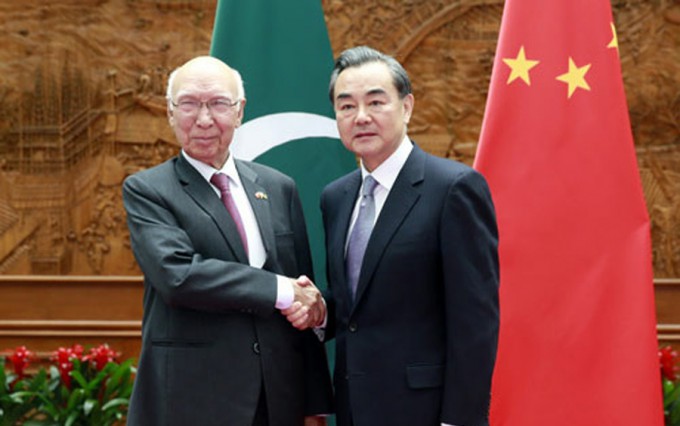 ---
ISLAMABAD: Pakistan and China have resolved to work closely with Afghan government in its efforts to bring peace and stability in the war-ravaged country.

"It was agreed that Pakistan and China will continue to work closely with the Afghan government in its efforts to bring peace and stability in Afghanistan," said a statement issued by the foreign office.

The announcement came after the meeting between Prime Minister's Adviser on Foreign Affairs Sartaj Aziz with China's Foreign Minister Wang Yi in Beijing on Friday.

On Monday, Afghan President Ashraf Ghani said they will no longer see Pakistan's cooperation for talks with Taliban.

Delegation in Pakistan to discuss refugees, release of prisoners: Afghan Taliban

Ghani had also asked Pakistan to honour its commitment by taking military action against Afghan Taliban.

Aziz is in China to attend the fifth Foreign Ministers meeting of Conference on Interaction and Confidence Building Measures in Asia (CICA).

The top diplomats reviewed bilateral ties and exchanged views on regional and international developments including Afghanistan, the statement added.

The two leaders recognised the importance of promoting Quadrilateral Consultative Group (QCG) in facilitating an Afghan-led and owned reconciliation process.

The Chinese minister conveyed appreciation for the sacrifices of Pakistan in countering terrorism, and for its strong resolve in eliminating this menace.

The diplomats also expressed satisfaction at the pace of progress on implementation of agreed projects under the China-Pakistan Economic Corridor (CPEC).

"They agreed CPEC is an economic game changer for the region and would contribute to the objective of evolving a community of shared destiny by bringing benefits to not only Pakistan and China but to the entire region," the statement added.

The statement came at a time when relations between Pakistan and Afghanistan have once again deteriorated after recent attack in Kabul in which at least 64 people were killed.

Will no longer seek Pakistan's help in peace talks: Afghan president

Pakistan officially has so far not reacted to Ghani's outburst. Officials said Islamabad would not indulge in any war of words with the Afghan government as such a situation would only strengthen hands of those who do not want improved ties between the two neighbours.

Earlier on Wednesday, Afghan Taliban confirmed a three-member delegation was currently visiting Pakistan to discuss Afghan refugees and other issues of mutual interest.

According to sources, the primary objective of the visit was to explore the possibility of reviving the peace process.