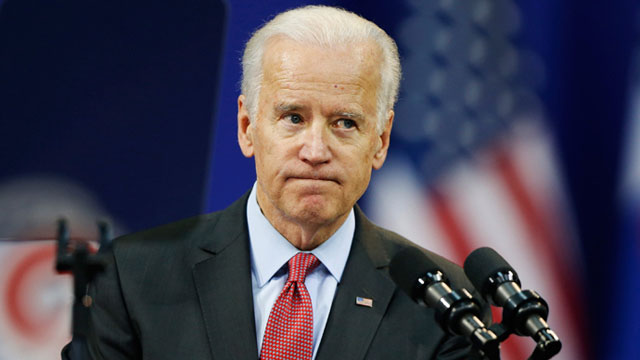 ---
ERBIL, IRAQ/BAGHDAD: US Vice President Joe Biden met Iraqi Prime Minister Haider al Abadi and other top officials in unannounced visits to Baghdad and Erbil on Thursday to show support for a government battling Islamic State amid political and economic crises.

It was the first visit for Biden, the White House's point person on Iraq, since US forces withdrew in 2011 after nearly nine years of occupation. He was the third and highest-level US official to visit the country this month.

US Vice President Biden on surprise visit to Iraq

Islamic State, also known as ISIL, seized large portions of Iraq and neighboring Syria in 2014. Iraqi forces have won back some territory, such as the western city of Ramadi, but often after long battles that have left the areas destroyed.

Biden's trip, several months in the planning, is a sign of the progress Washington believes Iraqi forces have made in beating back the militants over the past year and its hope that the northern city of Mosul can be recaptured before US President Barack Obama leaves office in January.

"This is a good indication of the United States' continued support for Prime Minister Abadi's efforts to unify the nation of Iraq to confront IS," White House spokesperson Josh Earnest said.

The vice president has close relationships with Iraqi leaders and speaks with them about every 10 days. Still, "there's no substitute for being able to sit down face-to-face," a US official said.

Biden, a longtime US senator before becoming vice president in 2009, said he had been to Iraq almost 30 times during his career.

His first stop on Thursday was Baghdad where he met Abadi and Parliament Speaker Salim al Jabouri to discuss "progress" in the fight against Islamic State, including plans to retake Mosul.

"It's real. It's serious. It's committed," Biden told reporters.

Iraqi officials say they will retake Mosul this year but, in private, many question whether that is possible. Biden hopes some progress can be made before the extreme summer heat, a senior administration official said.

He later flew to Erbil, the capital of Iraq's autonomous Kurdish region, for a 90-minute working dinner with the Kurdistan region's president, Massoud Barzani, to discuss the Mosul offensive in which Kurdish peshmerga forces are expected to have a critical role.

Biden sees growing progress in battle against Islamic State

The peshmerga have emerged as a key component of a US-led coalition's strategy to "degrade and destroy" Islamic State, driving the insurgents back in northern Iraq with the help of air strikes despite a financial crisis that has made it difficult to pay salaries.

Political crisis

Biden's trip also served to counter a "misperception in the region" that Iran, which backs powerful Shia Muslim militias fighting Islamic State in Iraq, has undue influence in the nation, the US official added.

But it comes at a turbulent time in Iraqi politics. Abadi has faced resistance to a government overhaul aimed at tackling corruption. He won lawmakers' approval to replace a handful of ministers on Tuesday after delays and disruptions.

The political battle has also sparked populist protests that forced the government to bring back troops from the front lines to secure the capital.

US officials have expressed concern that unrest could distract from the war effort. Secretary of State John Kerry and Defense Secretary Ash Carter visited Baghdad earlier this month to show their support.

Biden says 'watching Iran like a hawk' on nuclear deal

"It's been a pretty all-consuming political affair," a senior US official told reporters, noting recent signs of a "calmer trajectory" in the drama.

Obama has said he has seen "momentum" in the efforts of the coalition fighting Islamic State, and recently authorised more US forces to go to Iraq and Syria to help train and assist local fighters.

Their goal is to help Iraqi and Kurdish forces retake Mosul by the end of the year. The United States has already redeployed several thousand troops to Iraq to help defeat Islamic State.

The White House is concerned that not enough is being spent to rebuild parts of Iraq devastated by the fight, a deficit made worse by the low price of oil, Iraq's main revenue source.

The United Nations is urgently seeking $400 million from Washington and its allies for reconstruction, while Obama asked Gulf Arab leaders to assist during a visit to Riyadh last week.

He also discussed the issue with European leaders in London and Hanover, Germany, and told reporters Iraqi reconstruction would be a topic for the G7 meeting in Japan next month and for NATO.

Biden, whose late son Beau spent a year in Iraq with the Army, later spoke with US troops and embassy workers. He showed them a daily tally of the number of US troops serving, killed and injured in the line of duty that he carries in his front suit pocket.

"The history of this region is a nightmare from which everyone is constantly trying to awake," he said, adapting a line from Irish novelist James Joyce.