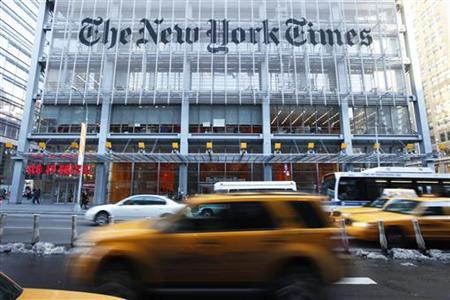 ---
NEW YORK: A lawsuit filed Thursday against the New York Times by two female, black employees alleges a pattern of discrimination based on age, race and gender at the prestigious daily.

The suit seeking class-action status was filed on behalf of the two women, aged 61 and 62 and alleges that the newspaper's compensation, assignment and promotion policies discriminated against "older, black and/or female employees."

Three female chauffeurs awarded $130,000 after being fired by Saudi royal

"It is astonishing that a news organisation that regularly promotes liberal social viewpoints could have a double standard when it comes to blatantly discriminating and retaliating against its own hard working and dedicated employees," said plaintiff attorney Douglas Wigdor in a statement.

The lawsuit said that some employees "are victims of discriminatory barriers" compared with "younger white employees."

The suit names New York Times chief executive Mark Thompson, a former BBC director-general, and Meredith Levien, chief revenue officer.

It states that Levien is the only woman on the company's executive committee and that "this lack of female leadership fosters an atmosphere where gender roles, stereotypes and biases are reinforced, and where strong female voices are considered 'pushy' and 'difficult,' rather than 'ambitious,' 'assertive' or 'aggressive.'"

Muslim woman faced discrimination by flight attendant, passengers over unopened soda can

Eileen Murphy, a spokesperson for the New York Times Co., said the suit "contains a series of  recycled, scurrilous and unjustified attacks on both Mark Thompson and Meredith Levien" and  "completely distorts the realities of the work environment" at the newspaper.

"We strongly disagree with any claim that the Times, Mr Thompson or Ms Levien have discriminated against any individual or group of employees. The suit is entirely without merit and we intend to fight it vigorously in court," the statement said.

The suit comes two years after the ouster of executive editor Jill Abramson, whose dismissal sparked speculation that she was fired for complaining about being paid less than her male counterparts, an allegation denied by the company.

The suit references reports on the Abramson dismissal and also alleges that Thompson, while at the BBC, faced numerous complaints from women "about sexist and ageist employment practices."