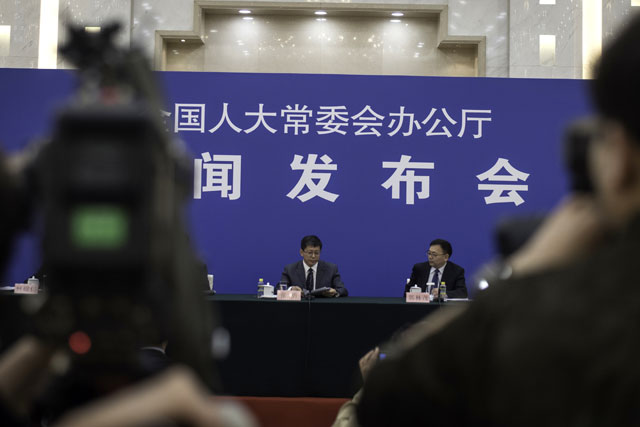 ---
BEIJING: China's Communist-controlled legislature passed a law imposing new regulations on foreign non-government organisations on Thursday, authorities said.

The measure has provoked an outcry from charities and concerns from foreign governments that it gives police wide-ranging discretionary powers amid a crackdown on civil society in the country.

At least 1,000 foreign NGOs are thought to operate in China, including development charities such as Save the Children, advocacy groups including Greenpeace, chambers of commerce and university centres.

China mulls tighter control of foreign charities: report

The National People's Congress standing committee, which acts as the parliament when the NPC is not in full session, gave the law almost unanimous approval, with 147 votes in favour and only one against.

The full text was not immediately available, but a draft of the bill described by the official Xinhua news agency in a report earlier this week carried many provisions which previously triggered concerns.

It covers foreign charities, business associations, academic institutions and others in China, and requires them to "partner" with a Chinese government-controlled agency and report their actions to authorities.

"There have been some foreign NGOs which have planned or carried out activities threatening the stability of society and national security," NPC official Zhang Yong told reporters at a briefing.

Chinese police would have the right to cancel any activities they judged a threat to national security, and would be empowered to "invite for talks" the heads of foreign NGOs in China, Xinhua said.

It added police could add any foreign NGO they judged to promote "subversion of state power" or "separatism" to a "not welcome list", which would ban them from the country.

Israel takes first step to pass contentious NGO law

At the briefing Guo Linmao, another NPC official, dismissed concerns over police supervision, saying: "Ordinary folk have a saying: If you have a problem, call the police, if you haven't broken the law, what are you afraid of?"

Overseas NGOs would also be forbidden from recruiting "members" in mainland China, Xinhua said, barring special permission from the State Council, China's cabinet. It was not specified whether that included local staff.

'Very real threat'

Foreign governments have previously expressed dissatisfaction with the law, even doing so in writing to Chinese government officials.

"We are also deeply concerned about the provisions in the draft Law on Foreign NGO Management," Hans Dietmar Schweisgut, the European Union ambassador to China, wrote in a letter earlier this year seen by AFP.

"Unless the law undergoes serious revision... it is likely to hinder people to people contacts, academic exchanges and commercial activities, all crucial elements of our bilateral relationship."

Rights groups decried the law's passage on Thursday.

"The authorities –- particularly the police -– will have virtually unchecked powers to target NGOs, restrict their activities, and ultimately stifle civil society," said William Nee, China researcher at Amnesty International.

"The law presents a very real threat to the legitimate work of independent NGOs and should be immediately revoked."

China's state-run media in recent years have accused foreign organisations of undermining national security and trying to foment "colour revolution" against the ruling party.

China's Xi warns of foreign infiltration through religion

China in January arrested and deported a Swedish human rights activist who had trained Chinese lawyers, and foreign NGO staff working on legal issues report an increasingly restricted environment.

President Xi Jinping has in recent years overseen a crackdown on civil society, with scores of lawyers, academics and activists detained and dozens jailed.