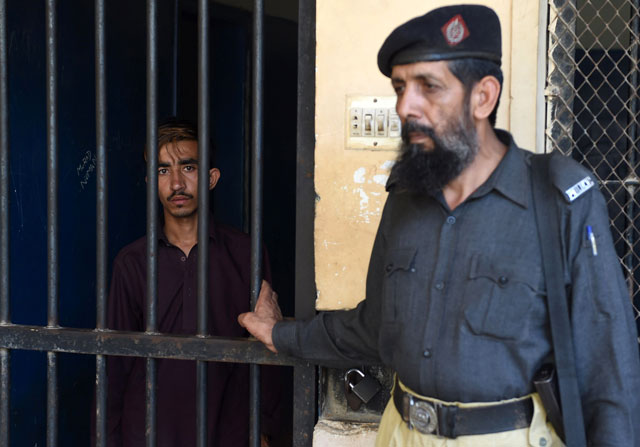 ---
KARACHI: A judicial magistrate remanded on Thursday a young man, who murdered his teenage sister for 'honour', into police custody for four days.

Hayat stabbed Sumera multiple times after beating her severely in their house in Fareed Colony, Orangi Town, the investigating officer (IO) of the case, SI Gulfaraz Awan, told District West judicial magistrate Abdul Basit Kalhoro.

The accused has also confessed to the crime in police custody, saying that he caught his sister talking to a boy at the doorstep of their house. He was inside his bedroom and as soon as he arrived at the door, the boy fled away.

Honour killing documentary receives criticism from male students

"I had repeatedly asked her not to go at the door but she did not listen," said the man, who appeared to be in his early 20s, while talking to media personnel inside the courtroom. "This infuriated me and I grabbed a kitchen knife and stabbed her four to five times."

According to the IO, the 17-year-old girl begged her brother to take her to the hospital but he refused and tried to escape. However, the neighbours caught him and informed the police. In a video made on a cell phone, it can be seen that the girl is lying at the doorstep, trembling with pain, while the brother is sitting beside her surrounded by people. The girl was rushed to Abbasi Shaheed Hospital but she succumbed to her wounds on the way, said Awan, describing the cause of her death as excessive bleeding.

The judicial magistrate sent the suspect in police custody on a four-day physical remand and directed the IO to bring a progress report at the next hearing.

The case was registered at the Mominabad police station on the complaint of the state, after the victim's father, according to police sources, refused to lodge an FIR against his son. The father said that he has already lost his daughter and does not want to lose his son as well, the source added.

'Honour' killing: Young couple shot dead in Karachi for marrying of their free will

This is the second time in two months that an 'honour killing' incident has taken place within the remits of the Mominabad police station. On March 7, a young man and his wife were shot dead in their house allegedly by the woman's father and brother. The couple hailed from North Waziristan and had eloped to Karachi.

Published in The Express Tribune, April 29th, 2016.