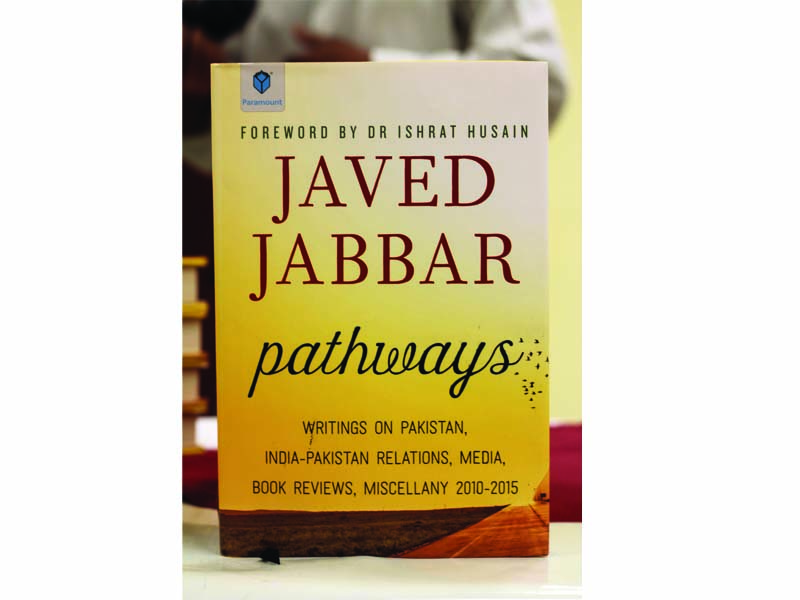 ---
KARACHI:



For the sake of the poor in India and in Pakistan, we should try to bring peace through trade, improved economic relations and people-to-people exchange, said Institute of Business Administration former dean Dr Ishrat Husain on Wednesday evening.




Speaking at the launch of Javed Jabbar's book 'Pathway' at Karachi Gymkhana, Dr Husain suggested we should explore other avenues to resolve political disputes with India and discussed the aspect of India-Pakistan relations mentioned in the book, which is an anthology of 84 essays divided into five sections - India-Pakistan, Pakistan, the media, book reviews and miscellaneous essays.

Dr Husain added that for the last 70 years India and Pakistan have not been able to reconcile their political relationship because of the dispute. He suggested a different approach which includes an improved trade relationship and people-to-people exchanges.

Book launch: Pakistan from a journalist's perspective




"India is becoming a major economic power right next door to us. They have a middle-class of 400 million people, while we have 30 to 40 million middle-class people," he explained. "Let us give dominance to trade relations, people-to-people and student-teacher exchanges in Pakistan," he suggested. Citing the example of China and India, he said they have many disputes and so much distrust between them but despite that they are the largest trade partners, with their trade amounting to $75 billion.

About 'Pathways,' for which Dr Husain has written a foreword, he said that it offers new insights every time one reads it. Terming Jabbar's personality a 'rare and unique one', he said what he finds most striking is the tremendous amount of positivity, energy and constructive ideas he has.

Jabbar reminisced about his early childhood days when, at the age of nine, his mother forced him to write. One of his first poems was published in a magazine in Poona and after that there was no looking back. He said his book is about what has already been published but the purpose of publishing the book was to help people who are preoccupied with other things. "It is also to set it in perspective if someone has been following how the writer's thinking has evolved over time," Jabbar added. He said that the book is supposed to reflect five years worth of his writing but it does not. "Sometimes a writer consciously holds back and often he reveals [his opinion in] the way he expresses the subject," he explained.

He elaborated on one thematic aspect present in all five sections of the book, which concerns the relationship between the state and society. Is society a monolithic thing called riyasat? He asked. "The state itself is very plural and it's actually very fragmented," he stated.

"The state is changing because of the 18th Amendment. There are people who think that the 18th Amendment poses a grave danger to the unity and stability of the state," he said. According to Jabbar this means that we must rethink about the 18th Amendment. "There are operational reasons why the state must reclaim its central role in guidance and vision without interfering and encroaching on the provincial authorities. The state is always evolving; it is by no means static," he explained.

Dr Masuma Hasan of Pakistan Institute of International Affairs also spoke at the event about philanthropy, Pakistan-India relations and the fall of Dhaka, a subject, according to her, Jabbar has revisited in his book.

Published in The Express Tribune, April 28th,  2016.

 
COMMENTS
Comments are moderated and generally will be posted if they are on-topic and not abusive.
For more information, please see our Comments FAQ