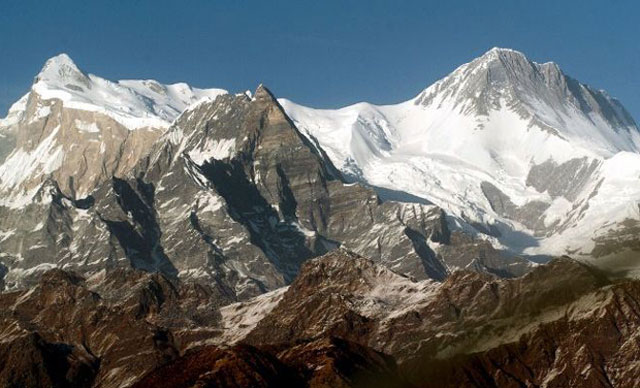 ---
KATHMANDU: Two European climbers have plunged to their deaths in China's Himalayas while two Asian trekkers have died of suspected altitude sickness in Nepal's Everest region in separate incidents, a tour operator and police said Wednesday.

The Swiss and Austrian climbers were part of a team of nine mountaineers attempting to summit China's 8,027-metre (26,335-foot) high Shisha Pangma mountain when they fell down a crevasse on Sunday.

Indian soldier rescued after six days in Himalayan avalanche

"The two climbers have died but the others are safe," Subash Shrestha, manager of their Kathmandu-based operator, Active Holiday Nepal Treks, told AFP.

Shrestha said he had received an email from the team leader confirming their cause of death, but had not been able to communicate with the climbers since then.

Closed to Westerners until 1978, Shisha Pangma is considered a relatively straightforward peak to summit, although mountaineers have died in accidents in the past.

Experts recommend that climbers attempt it as part of their training before turning to tougher mountains.

In separate incidents, two male hikers -- one Japanese and the other Korean -- died on their way down from Nepal's Everest base camp, a local police official said.

The Japanese hiker passed away on Friday, while the Korean trekker died on Tuesday.

Climbers make first winter ascent of Pakistan's 'Killer Mountain' Nanga Parbat

"We suspect they died of altitude sickness. Their bodies have been airlifted to Kathmandu," said the duty officer at the Solukhumbu district police headquarters.

Altitude sickness strikes when people ascend heights too quickly, with the decreased atmosphere pressure causing headaches, fatigue and dizziness.

Nepal's snow-capped peaks make it a popular hiking destination, with around 150,000 trekkers visiting the Annapurna and Everest regions every year.

But the tourism industry has suffered in recent months after a 7.8-magnitude quake hit the Himalayan nation last April, killing nearly 9,000 people and triggering a deadly avalanche on Everest base camp that killed 18, including foreign climbers.