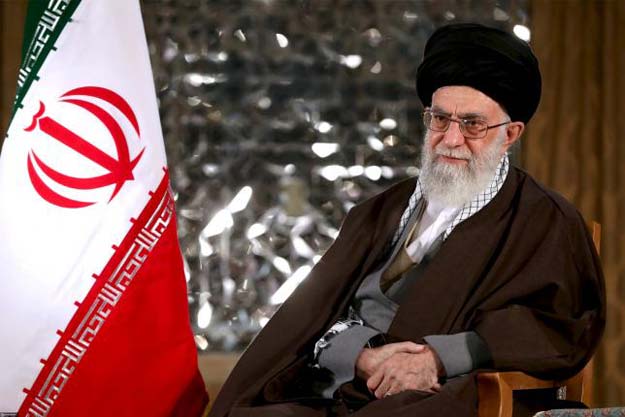 ---
TEHRAN: Iran's supreme leader and president accused the United States of hostility and bad faith on Wednesday saying the implementation of its nuclear deal with world powers was not being honoured.

Ayatollah Ali Khamenei echoed other officials in Tehran who allege that Washington is creating hurdles for European financial institutions, more than three months after the agreement came into force.

With nuclear-related sanctions lifted, US and European diplomats have said there is no bar on non-American banks doing business with Iran. But it is not happening in reality, Khamenei said.

'Death to America' stands despite nuclear deal: Iran MPs

"On paper they say that foreign banks can do business with Iran but, in practice, they are fomenting Iranophobia to prevent relations.

"The United States creates disruptions and then asks us afterwards: 'Why are you suspicious'?" Khamenei told workers in the capital.

European officials have told AFP their bankers fear they could face fines or even criminal cases against their US subsidiaries if they rush back to Tehran.

Iran's Khamenei denounces 'arrogant' US

At a separate event, President Hassan Rouhani criticised a decision by the US Supreme Court last week to make $2 billion of frozen Iranian assets available to American victims of terror attacks.

US officials blame Tehran for attacks including the bombing of a US Marine barracks in Beirut in 1983 and the 1996 Khobar Towers bombing in Saudi Arabia.

Tehran threatened on Monday to take action in the International Court of Justice against the US if the $2 billion belonging to Iran's Central Bank is "diverted" to 1,000 Americans affected by the ruling.

"This is a totally illegal action and contrary to international rules and immunity of central banks," Rouhani said, calling it "a violation and open hostility by the United States against the Iranian people".

The US court verdict comes despite hopes for better relations between Tehran and Washington, foes since the Islamic revolution of 1979 ended the rule of the US-backed Shah.

That tumult was followed by students' storming the US embassy and a 444-day hostage crisis.

More than two years of talks led to the nuclear agreement between Iran and major powers led by the United States and it involved the first open direct negotiations between Washington and Tehran since the revolution.

But it has not heralded a thaw on other issues.

US sanctions still exist to punish Tehran for its ballistic missile programme and what Washington says is its sponsorship of "terrorist groups" in the Middle East.