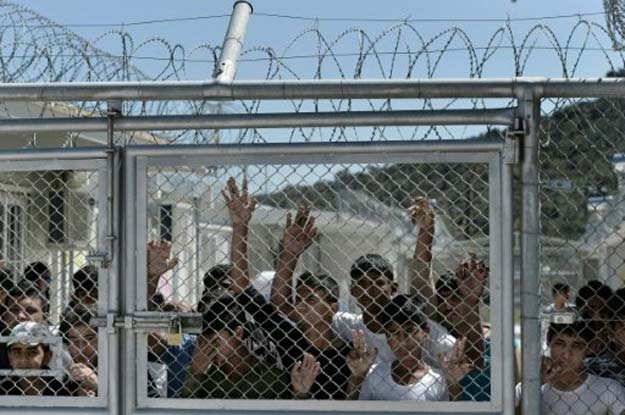 ---
ATHENS: Greece returned another 49 migrants, including four Pakistanis, to Turkey on Tuesday under a controversial EU-Turkey deal to reduce the influx, a police source said, three weeks after the first deportations.

The 49 sent back -- taken from the islands of Kos, Lesbos and Chios to the Turkish ports of Dikili and Cesme -- included 18 Bangladeshis, 12 Afghans and four Pakistanis.

The group, who were accompanied by officers from EU border agency Frontex, also included nine people from Myanmar, five Iranians, and a Jordanian.

Turkey approves agreement to repatriate Pakistani migrants

The latest expulsions came as tensions flared at a migrants' camp on the Greek island of Lesbos during a visit by Migration Minister Yannis Mouzalas.

A government source told AFP that a "misunderstanding" triggered a disturbance at the Moria camp on Lesbos, one of several Greek islands that have seen a massive influx of migrants setting sail from nearby Turkey.

The unaccompanied minors section of the camp was particularly affected by the unrest, the source said.

Images posted on Twitter showed burning rubbish and parts of the camp being evacuated. Other posts suggested that a police officer had struck a young male in the camp, although this could not immediately be verified.

The Moria camp became a closed detention camp when the EU-Turkey deal came into force on March 20. Around 3,000 people are currently being held there awaiting news of their fate.

"They are anxious and frustrated, not knowing what is going to happen to them," said Boris Cheshirkov, spokesperson for the UN refugee agency on Lesbos.

Pakistani man threatens suicide in Lesbos camp protest

"Tension has risen in the camp in recent days, with a surge in violence," he said, adding that the unrest had calmed down by the afternoon.

Under the EU deal, migrants who do not qualify for asylum face deportation back to Turkey.

Two sets of deportations expelling some 325 migrants from Greece took place three weeks ago, mostly from Pakistan and Afghanistan.

Critics have accused the EU of sacrificing its values and overlooking Turkey's growing crackdown on free speech in order to secure the deal, which will see Turkey receive billions of euros in aid, visa-free travel for its citizens, and accelerated talks on its EU membership bid.

The deal has already sharply reduced the number of people crossing from Turkey to Greece, though the International Organisation for Migration last week warned that the numbers are "once again ticking up".
COMMENTS
Comments are moderated and generally will be posted if they are on-topic and not abusive.
For more information, please see our Comments FAQ