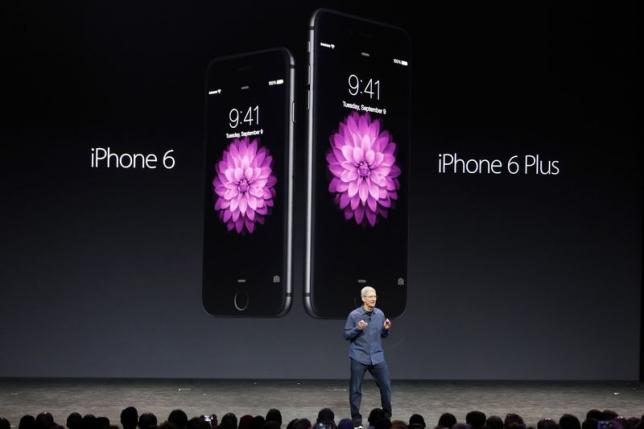 ---
SAN FRANCISCO: Apple on Tuesday reported its first-ever drop in iPhone sales since launching the smartphone in 2007 as the tech giant's long streak of rising revenue ended.

Apple said iPhone sales dropped year-over-year for the first time, slipping to 51.19 million units in the recently ended quarter compared with 61.17 million in the same period a year ago.

Profits fell as well: Apple reported net income of $10.5 billion in the fiscal quarter to March 26 from $13.6 billion last year.

Apple's book, film services go dark in China

With iPhones the main driver of sales for the company, revenue fell on a year-to-year basis for the first time since 2003: $50.6 billion from $58 billion a year earlier.

Apple shares dove more than eight percent to $95.90 in after-market trades that followed release of the earnings figures.

Sales of iPhones, the heart of Apple's mobile age money-making machine, were down 16 percent, according to the earnings report.

Apple chief executive Tim Cook said of the slump that "this too shall pass."

Analysts said it was not surprising to see the drop given the saturation of the global smartphone market.

"Following a rapid expansion into new markets over the years from 2007-2011, Apple was approaching saturation of the available distribution channels, and many of those already in the smartphone market who could afford to buy an iPhone had one or one of its high-end Android competitors," said Jan Dawson at Jackdaw Research.

Dawson said Apple managed to boost sales in a slow-growing market with its large-screen models, but that it is unclear if it can regain momentum.

Apple also announced that its board has authorized $35 billion more to be spent on buying back shares, along with money for the dividend to be increased to 57 cents per share.

Apple has been making inroads into wearable technology with its Apple Watch and moving into services such as music subscriptions, but remains largely dependent on the iPhone for profit and revenue.

"While Wall Street was disappointed with Apple missing core revenue and earnings numbers, we aren't talking about a company in trouble," said Patrick Moorhead, president and principal analyst at Moor Insights and Strategy.

"Apple is still driving iPhone market share in nearly every region, and we will shortly know if the iPhone SE enables continued market share gains in the mid-range."

Samsung follows Apple with launch in China of mobile payment

The analyst noted that Apple rivals Samsung, LG, HTC and Huawei have "dramatically amped up their smartphone games" and the effect of that should be seen in the current quarter.

Apple last month went small, cutting prices as well as screen size with the introduction of a new iPhone and iPad aimed at first-time buyers and customers in emerging markets.

A new iPhone SE recently debuted at $399 for US customers without a contract subsidy, a significant cut from the price of Apple's larger iPhones.

The iPhone SE did not launch in time for sales to be included in the quarterly earnings, but Apple executives said demand has outpaced supply.

The new iPhone model was seen as having strong potential in international markets beyond China, particularly in India.

Even though the price tag is higher than low-cost Android handsets that dominate the market, it puts the cherished Apple brand within better reach to consumers in developing economies.

Revenue from Apple sales in China were down 26 percent to $12.5 billion in a year-over-year comparison for the quarter, but up 56 percent in India.

"China is not weak," Cook said during an earnings call.

"We may not have the wind at our backs that we want, but it is a lot more stable than what I think is the common view of it."

Cook noted that the bulk of the revenue drop for Apple in Greater China was in Hong Kong, where currency linked to the strong US dollar crimped sales while the company fared better on the mainland.

Cook saw tremendous potential for Apple in India, where he expected iPhone sales to accelerate with broader rollout of high-speed telecommunications networks.

Apple to launch an 'all glass' iPhone in 2017, claims analyst

"I think there is great opportunity there," Cook said of India.

While Apple is the world's largest company by profit and market value, it has been shifting its focus in anticipation of the slowdown.

Apple spotlighted the profit it brings in from services such as Apple Music, iTunes, Apple Pay and the App Store, saying revenue shot up to a new quarterly record high of nearly $10 billion.

"We have developed a very large and profitable business in the services area," Cook said.

There are more than a billion Apple devices being used around the world, providing a large pool of potential customers for digital content or services offered in the company's "ecosystem."