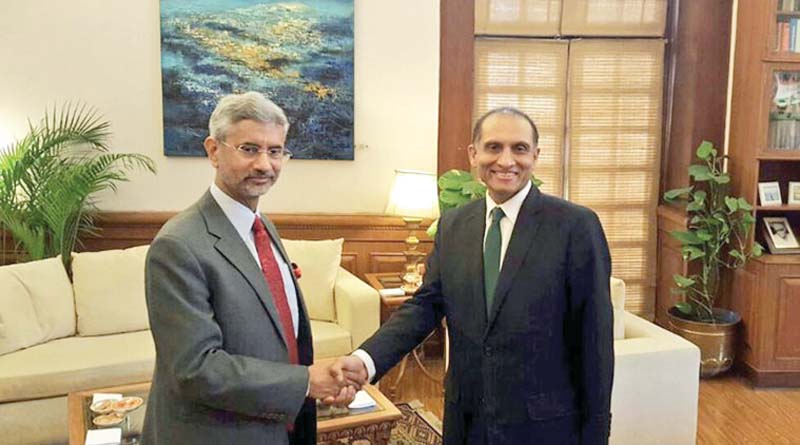 ---
NEW DELHI/ ISLAMABAD: Pakistan conveyed its 'serious concerns' to India on Tuesday over its spy agency's involvement in subversive activities in Balochistan and Karachi as talks between the foreign secretaries of the two arch-rivals in New Delhi failed to break the stalemate in the bilateral dialogues.

The meeting between Foreign Secretary Aizaz Ahmed Chaudhry and his Indian counterpart S Jaishankar on the sidelines of the Heart of Asia-Istanbul Conference was the first formal contact between the two neighbours since the peace process was derailed as a result of a brazen militant attack on an airbase in Indian Punjab's bordering Pathankot area.

Dialogue with Pakistan not suspended: India

This was also the first time that Islamabad formally took up issue of Indian' Research and Analysis Wing's (RAW) subversive activities with New Delhi at a high-level following the arrest of an Indian Naval Officer Kulbushan Jadhav from Balochistan last month.  In a video footage, Jadhav had confessed to have been working for the Indian spy agency to create unrest in Baluchistan and Karachi.

However, Tuesday's meeting that lasted over one and a half hour appeared to make little headway in breaking the deadlock in bilateral talks as the two sides publicly expressed their concerns on various issues. The two sides opted to put out separate statements instead of a joint communiqué, indicating that the foreign secretaries' talks remained inconclusive.

While Pakistani foreign secretary called for the early start of comprehensive bilateral dialogue to discuss all outstanding issues including Kashmir, his Indian counterpart insisted that Pakistan could not be in denial on the impact of terrorism on the bilateral relations.

Pakistan cannot be in denial about terrorism's impact on relations, says India

The divergent statements clearly suggested that the two neighbours were not anywhere close to resuming the structured dialogue process announced in December last year. According to the Pakistan's Foreign Office statement, all outstanding issues including the Jammu and Kashmir dispute were discussed.

The Foreign Office said Aizaz emphasised that Kashmir remained the core issue that "requires just solution under UNSC resolutions and wishes of the Kashmiri people."

He underscored Pakistan's commitment to have friendly relations with all its neighbours, including India in line with Prime Minister Nawaz Sharif's vision. He also called for early commencement of comprehensive dialogue for which the Indian foreign secretary's visit to Pakistan was due.

The key meeting was to take place in January but it could not be materialised after the Pathankot attack that left at least 7 Indian security personnel dead. Since then the two sides have been struggling to revive the process.

Aizaz said the two countries should remain committed to a sustained, meaningful and comprehensive dialogue process.

The statement further said the foreign secretary pointed out that, despite repeated requests, India had not shared investigation reports of 2007 Samjhauta Express blasts in which 42 Pakistanis had lost their lives. He also conveyed concern over the environment being created in India for the release of the prime suspects, including Col Purohit, who is being tried on the charges of bombing the train.

"Such acts undermine efforts to normalise relations between the two countries," he said.

Case for Pakistan-India talks

But the Indian External Affairs Ministry in a separate statement neither mentioned Kashmir issue or concerns conveyed by Pakistan on RAW's subversive activities. The Indian statement said foreign secretaries' discussions were frank and constructive as both sides raised issues of concern to them.

It said India's Foreign Secretary emphasised the need for early and visible progress on the Pathankot terrorist attack investigation as well as the Mumbai case trial in Pakistan. He also brought up the listing of Jaish-e-Mohammad (JeM) leader Masood Azhar in the UN 1267 Sanctions Committee.

India blames JeM for planning and executing the Pathankot attack.

According to the statement, Jaishankar clearly conveyed that Pakistan could not be in denial on the impact of terrorism on the bilateral relationship. "Terrorist groups based in Pakistan targeting India must not be allowed to operate with impunity," he insisted.

The top Indian diplomat also pressed for immediate consular access to Kulbhushan Jadhav, who according to him, is a former Naval officer abducted and taken to Pakistan.

The discussions also covered humanitarian issues including those pertaining to fishermen and prisoners, and people to people contacts including religious tourism.

The Indian statement said the two secretaries exchanged ideas on taking the relationship forward and agreed to remain in touch. However, it did not give any date, timeframe and modalities in this regard. It also concluded without giving any hint of formal start of the comprehensive bilateral dialogue.

Published in The Express Tribune, April 27th,  2016.

 
COMMENTS
Comments are moderated and generally will be posted if they are on-topic and not abusive.
For more information, please see our Comments FAQ