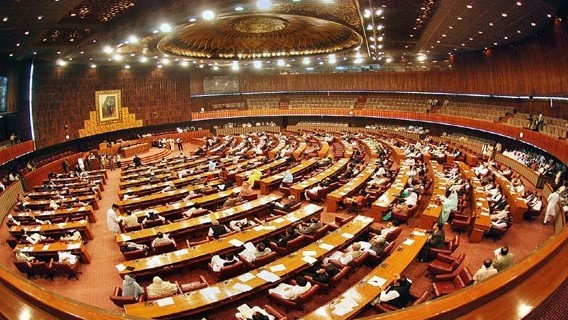 ---
ISLAMABAD: A woman parliamentarian from the Pakistan People's Party introduced on Tuesday a bill in the National Assembly aimed at protecting those women whose husbands opt for a second marriage.

The government did not oppose the legislation that sought amendments to a 1961 Family Laws Ordinance when Justice (Retd) Fakhar-un-Nisa Khokhar tabled it in the House as a private bill. The bill proposes measures to protect women against physical and mental torture by husbands seeking their permission for a second marriage.

It suggests amendments in certain clauses of the ordinance that former president General Ayub Khan had promulgated almost 50 years ago. A practicing lawyer and a retired judge, Khokhar is known for proposing legislation to safeguard women's rights. Her latest bill calls for the prompt payment of dower to women in case their husbands opt for a second marriage with or without the first wife's consent. To be called the Muslim Family Laws (Amendment) Act 2010, the bill proposes that a husband must provide medical evidence if he seeks permission for a second marriage on grounds that his wife is unable to fulfill his sexual desires.

The bill also proposes that the mother should have the custody of a minor child in case of divorce. The husband would also be bound to pay lifetime child support. Also, if he is financially capable, he should not deprive the wife from the house she was living in before the divorce. The husband would also maintain, at least for two years, the wife who is breastfeeding an infant. Talking to The Express Tribune about the prospects of implementation of such a law in a conservative society like Pakistan, Khokhar said the same legislation was already in place in countries like Saudi Arabia, Morocco and Tunisia.

"All these societies are even more conservative than Pakistan. I am convinced that there won't be any problem with the implementation," Justice (Retd) Khokhar said. According to a copy of the bill, the family courts would act like revenue courts as well to make sure that the property pledged as dower was transferred in the name of the wife in case of the husband's second marriage. Khokhar said she was happy that the bill was not opposed and claimed that the legislation would be a remarkable achievement to preserve women's rights in Pakistan. The basic idea for such legislation, she said, is based on conjunctions from the Quran and the measures it proposes are Islamic.
COMMENTS (8)
Comments are moderated and generally will be posted if they are on-topic and not abusive.
For more information, please see our Comments FAQ