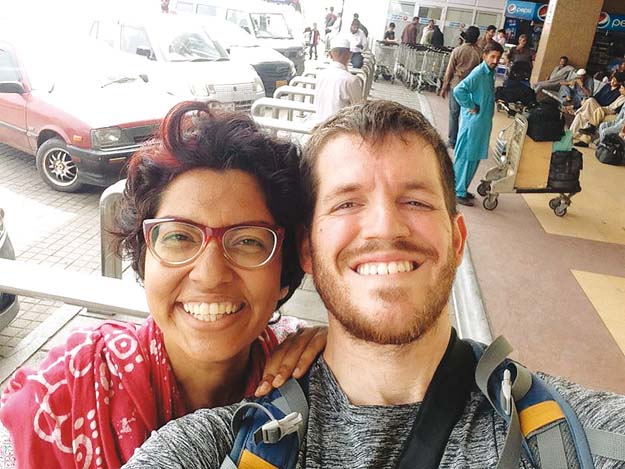 ---
KARACHI: I am as much a Pakistani as I was before I went on Fulbright to study news and documentary at New York University (NYU). Whatever I learnt and studied there is so much applicable and relevant here, says co-producer of A Girl in the River, the Oscar winner for Short Documentary, Haya Fatima Iqbal. "I never felt the cultural shock that people usually get when they return from abroad. For me, it was all in reverse," adds Iqbal.

Belonging to a middle-class family and being someone who has worked her way up through sheer talent and hard work, Iqbal is an inspiration for every ordinary student who dreams to be extraordinary. Her journalism journey started at the mass communication department of Karachi University (KU), where she completed her undergrad. "The overall experience of the university was great. But it lacked in training and specialisation in terms of practical work," she says. Iqbal had majored in electronic media but felt that she lacked technical expertise. "I needed some more training. I wanted to be a producer who could shoot as well," she mentions, adding the DSLR craze had not arrived by then and technical training was not being taken care of in KU.

Humans of New York: Picture perfect




It was in her final year that Iqbal applied for the Fulbright scholarship. "Previously I had gone for a summer exchange programme. I had seen how they work, the environment of institutions and how people work and learn there. I felt it was the right place to study electronic media," she opines. "By the time I graduated from KU, I was in for Fulbright," she adds.

In retrospect, Iqbal believes she had realised early on that she wouldn't be able to shoot for her films without knowing the technical know-how. "Yes, you learn a lot on the job. But you're taught only as much as you're required [on the job]," she shares. "While applying, I had mentioned that I don't know how a camera works but I was interested in the field and was eager to study and learn," she recalls.

How 'A Girl in the River' cinematographer nearly ended up behind a corporate desk

With that followed vigorous three semesters for Iqbal, where she would find herself mostly on the road, shooting. "For someone who didn't know a lot, the study intensified over time." It was during this time in 2011 when Iqbal shot a 34 minute documentary of the Awami National Party-Muttahida Qaumi Movement conflict in Karachi, which was at its prime at the time. "It was a nice start to something big, obviously," she adds.

"The thing about my study programme was that it wasn't based entirely on the American perspective. We were taught that having a cheap camera doesn't mean bad shooting. Respect people's perspectives. Be like an idiot rather than a diva on shoot," remembers Iqbal.

Having stuck to her roots all the while she was on Fulbright, it's her roommates she misses the most. "And of course, there is a fun side to it. You don't have to worry about the finances, you get a stipend to live off, make trips to different places and meet all kinds of people. You are taken well care of," she reminisces.

Published in The Express Tribune, April 27th,  2016.