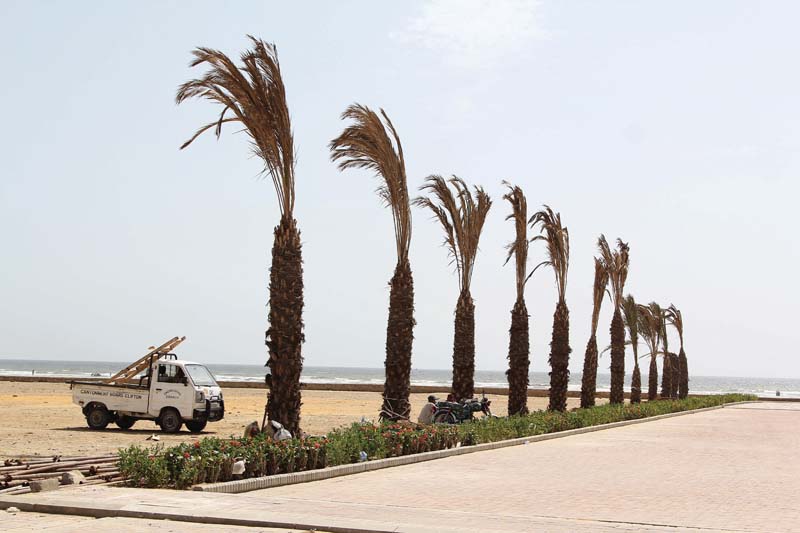 ---
KARACHI: People driving along Seaview Road may have noticed the discoloured, shrouded palms planted on the median strip dividing the road near the beach, and around a new park to be inaugurated in the next few days.

Trees, especially coconut palms, have had a poor history of survival in the area, yet authorities continue to spend thousands of rupees on their plantation every now and then.

Environmentalist Tofiq Pasha says that for the last thirty years, Defence Housing Authority has been planting trees, including coconut palms, along Seaview. Sadly, not a single tree has survived.

With 100 saplings planted at Mazar-e-Quaid, Shehri kicks off Million Trees Campaign

"Show me one tree which was planted over the years and has survived till today. Millions of rupees have been spent but all in vain. Even the newly planted trees will die soon," he lamented.

Coconut palm

According to Pasha, it is not possible to grow coconut trees at Seaview because of the breeze.




"The wind has high pressure and velocity. The salt content in the air is also high, which is not suitable for the leaves," he explained.

According to him, in a year there are eight months of high wind at Seaview Beach. The only coconut palms that have survived in the area are the ones shielded from the wind by buildings or covered by shelters.

As compared to beaches in other countries such as Thailand and Sri Lanka, Pasha says that palms are able to survive there as they receive 300 inches of rainfall annually.

However, horticulturist and writer Zahrah Nasir feels that if properly planted and correctly tended, palm trees can survive at Seaview, as they have adjacent to Beach Luxury hotel and inside the naval colony compound on the way to Sandspit Beach.

Green cover: Top court seeks statement on cutting of trees in Karachi

"Careful planting, correct irrigation and care is essential. To beat the wind, dwarf to medium height coconut palms should be planted," she advised.

Date palms

Meanwhile, according to Pasha, date palms, which have been planted along Seaview Road, have a much better chance of survival.

But that too depends on where the plants were grown, for example if they were grown along the Makran coast they will have evolved and will be able to withstand the coastal breeze, he said.

However, the date palms currently being planted come from interior Sindh, Khairpur and Sukkur and due to the different climate, the trees are unable to survive in Karachi's weather.

The green dream

The Cantonment Board Clifton (CBC) is behind the recent plantation of palm trees at Clifton Beach, which is being carried out to realise the Cantonment Executive Officer's dream of making 'Seaview green'.

But the man in charge of the horticulture department at CBC, Saqib Sajjad, admits they are struggling against the weather and pollutants.

"The mortality rate of grownup trees has been an issue. Coastal climate suits palms but at Seaview the oil content is much higher, which has an adverse effect on plants," he explained.

According to him, the palms they planted are suffering from 'transplanting shock', which lasts for a year and a half. The palms were grown somewhere else and have now been planted at Seaview, so their roots have been damaged and they need time to re-grow, he explained.

But Sajjad is hopeful that with post-planting care, the trees may survive. "We are checking the moisture level, watering them regularly, feeding them nutrients and coconut feed."

According to him, each mature date palm costs Rs2,000. Genetically, the date palm and coconut palms are the same, having the same leaves, growth, and features.

Going indigenous

Pasha believes that the only way Seaview can be made green is by planting the indigenous plant that once occupied the area. "They can be used innovatively. Thick growth of plants such as devi and keekar can reduce the wind pressure."

Published in The Express Tribune, April 27th,  2016.