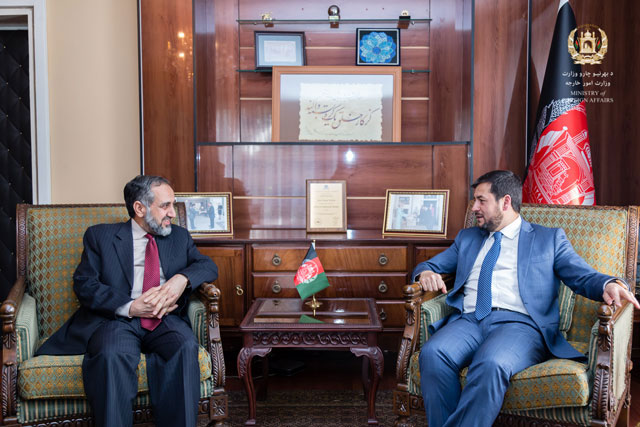 ---
ISLAMABAD: Afghanistan has summoned a top Pakistani ambassador to lodge a protest over, what it called, heavy shelling by Pakistani forces in Nangarhar which killed a policeman and injured two others.

"Pakistani military used heavy weapons including artillery in two areas of Nangarhar province, Goshta and Lalpur," Deputy Foreign Minister for Administrative Affairs Naseer Ahmad Andesha told envoy Abrar Hussain on Tuesday.

The move came a day after Pakistan said that its security personnel was killed and three others injured when suspected militants from Afghanistan fired mortars at a security check post in Mohmand Agency.

Mohmand violence: Security forces repulse cross-border attacks

Condemning the attack, Afghan envoy said the attack had happened at a time when Afghanistan was mourning after the April 19 Kabul terrorist attack that killed 64 people.

"The Afghan minister has asked Pakistan to urgently stop these violations so the relations between the two neighbouring countries are not affected further," Andesha added.

Pakistani ambassador expressed regret over the incident and promised to send the protest note to the concerned authorities in Islamabad.

On Monday, Pakistan said militants fired mortars at a security check post in Mohmand Agency's Bayzai sub-division late Saturday night.

Will no longer seek Pakistan's help in peace talks: Afghan president

The Jamaatul Ahrar, a splinter group of the outlawed Tehreek-e-Taliban Pakistan (TTP), had claimed responsibility for the attack while the group later admitted that four of its fighters were injured in exchange of fire.

The faction was mainly formed by the TTP Mohmand Agency's leaders with its spokesperson Ehsanullah Ehsan routinely claiming responsibility for attacks in Pakistan.

Security officials say that all Pakistani militant groups now operate from the Afghan side of the border.

The Pakistani ambassador has been summoned at a time when relations between the two countries are at the lowest ebb after the April 19 attacks.

Afghanistan losing interest in trade links with Pakistan

Afghan President Ashraf Ghani also came heavily on Pakistan in his parliament speech, saying the country will no longer seek Pakistan's role in the ongoing peace talks with Taliban.

Kabul is upset at the growing violence following the Taliban's refusal to hold peace negotiations with the Afghan government under the four-way process of Afghanistan, Pakistan, China and the US.
COMMENTS (2)
Comments are moderated and generally will be posted if they are on-topic and not abusive.
For more information, please see our Comments FAQ