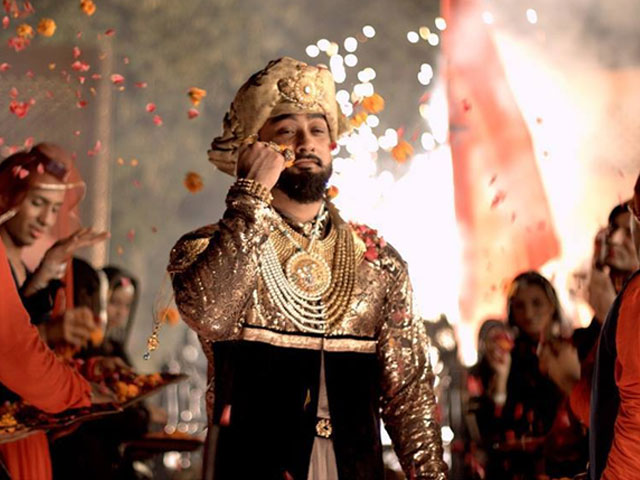 ---
Geo TV has been giving us tantalizing glimpses of their Magnum opus, Mor Mahal for a few months now and the first episode has been just as fascinating, showing us a world lit by fire and a palace full of intrigue.

The serial was originally conceptualised by Imran Aslam and written by poet and acclaimed author Sarmad Sehbai (writer of Funkaar Gali and the upcoming Mah e Mir) in 2004. It is directed by Sarmad Sultan Khoosat (director of Humsafar, Sheher e Zaat and Manto), and produced by Baber Javed for Geo entertainment and PTV Home.

Nawab Nausha Asif Jehan (Umair Jaswal) is introduced to us in the starkest way possible -- ordering the execution of a prisoner with the lift of his hand. He radiates power and authority; siting in the shade of a chariot drinking blood red wine as his soldiers obey his command.

Here's the ultimate list of Pakistani dramas you must watch in 2016

The Nawab's return to Mor Mahal or the Peacock Palace puts the residents on high alert. His three wives and mother -- Begum Sarwat Jehan (Hina Bayat) -- await his arrival. Begum Sarwat Jehan is hopeful her son would consummate his marriage to his new wife Mehar Bano (Sonia Nazir), a woman forced into marrying him for political gain.

Another wife Soraya Jehan is pregnant, longing for the Nawab's company and constantly afraid. Of all his wives, Furukhzad (Meesha Shafi) is the happiest and most excited about her husband's return because she knows she is his favourite.




According to writer Sarmad Sehbai, the palace is so named because a peacock supposes itself to be beautiful until it sees its feet. Similarly, behind the beautiful façade of wealth, manners and poetry surrounding the palace, lies the darker side: the ruthless use of absolute power.

This story is fantasy set in the reality of a time before the colonisation of the Indian subcontinent by the British and relies on both Turkish and Mughal influences. After the phenomenal popularity of Mere Sultan which charted the fortunes of the Ottoman royals, this serial promises to give the public an authentic taste of our own history. Much of how we view our past and the rulers of the pre-colonial era is through the orientalist lens of the British. This lens has distorted the image of many a historical figure as foppish, wastrels and ineffective rulers. Sehbai contends that it is time we break free from this paradigm and rediscovered our past.

'No means yes': Pakistan TV's dangerous trend of celebrating rapists and stalkers as heroes

Director Sarmad Khoosat is fresh of his triumph as Manto and has handled this serial with his usual creativity and visual flair, but his real strength lies in the way he captivates the audience's attention. No matter how grand a story or how lavish the set, the audience must be able to connect with the characters and Khoosat is an expert at that.

The episode opens with a violent spectacle, fizzing down to a mother and son meeting and negotiating the typical grind of domestic life. Nawab Nausha may decide life and death outside the palace but within his household he must bow to his mother's wishes.

This simple act raises the stakes as one wife flees leaving her hapless, trembling servant girl in her place meanwhile another drinks poison in despair at his rejection. These are not distant figures but living, breathing, well-rounded characters that have all the normal hopes and fears except that they might be a little more ambitious than the average housewife.




With costumes designed by Ali Xeeshan and shoots at Lahore fort, this is one of the most expensive television serials made in Pakistan and the result is authentically lavish  This serial has a large cast , including the talented Sania Saeed as Akhtari who deals in taveez and black magic, Jana Malik as Farukhzad's dependable kaneez and several other actors who are yet to make an appearance. Music seems to have become an essential part of every serial these days and Mor Mahal gives us its own special twist with a beautiful song and classical dance by Sohai Ali Abro

Rock singer Umair Jaswal is an unlikely but perfect fit for Nawab Nausha. In his debut role, Jaswal manages to carry off this character with great confidence and his screen presence is striking. At times his Urdu seems slightly forced, but that may be because our ears are no longer used to the flowing cadences and intricacies of the flowery Urdu used at the time. Meesha Shafi is magnificent as her character Furukhzad displays every shade of arrogance, desire and pride strangely mixed with vulnerability. Hina Bayat makes a strong impact as the Badshah Begum, a cold, proud woman, just as ruthless as her son.

The palace is full of servants and the eunachs who run the royal household and each of their characters have been carefully etched to give a faithful depiction of the period.

Umair Jaswal set to make acting debut in Mor Mahal




The only drawback might be that if the balance between domestic and outer spheres of life is not maintained, this will end up looking like the usual dramas such as Teen Aurtein, Teen Kahaniya, where the women fight it out over a man except this time it would be in a palace.

The women of Mor Mahal are its true strength; despite the restrictions of the time they make their mark and forge their own ways through life. This is a time when a woman's worth was established through her relationship with her husband, father or brother yet these women are fiercely independent and know their own worth unlike the little saints that populate our contemporary dramas who spend 24 episodes trying earn their the right to the most basic forms of respect.

So far Mor Mahal looks like a must watch: a reset button for a past often presented to us as if we were 'looking through a glass darkly'.

The author is a freelance writer, a serious fan of dramas and films but most of all an observer. She tweets @Tomtomatoe.