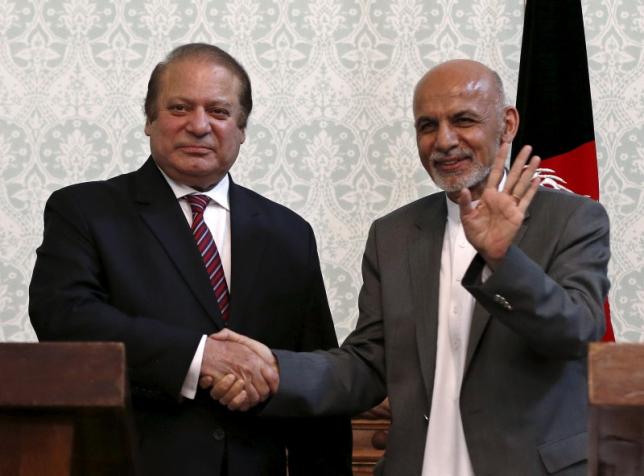 ---
A day after Afghan President Ashraf Ghani attacked Islamabad for sheltering terrorists, the Foreign Office on Tuesday renounced the allegations saying Pakistan does not differentiate between terror groups.

"Pakistan condemns all forms and manifestations of terrorism and it is committed in the fight against his menace," a statement issued by the office of FO spokesperson Nafees Zakaria said. "Pakistan itself is the biggest victim of terrorism in which thousands of our security personnel have sacrificed their lives."

Will no longer seek Pakistan's help in peace talks: Afghan president

The spokesperson said Pakistan is making serious efforts for peace and reconciliation in Afghanistan. "Pakistan hosted the first round of direct talks between Afghan government and Taliban but Pakistan alone is not responsible for bringing the Taliban back to the negotiating table," he maintained.

Zakaria also said the Quadrilateral Coordination Group was constituted to achieve the objective of peace and stability in Afghanistan. "Peace in the neighbouring country is in the interest of Pakistan," the FO spokesperson stressed.

The development comes as the relationship between the two neighbouring countries deteriorates once again following a deadly attack on Afghan security agency headquarters in Kabul on April 19.

An Afghan presidential spokesperson had accused the Haqqani Network of planning the attack in Pakistan with help from foreign intelligence circles. Afghan Taliban had claimed responsibility for the attack.

Afghanistan says Kabul attack was planned by Haqqani network in Pakistan

Following the Taliban's refusal to join the dialogue, President Ghani has been under pressure to change his policy on peace and reconciliation with the militant group.

Last month, the Taliban refused to sit face-to-face with the government in Kabul under the quadrilateral process of Afghanistan, Pakistan, China and the United States.

According to reports, China is working with Pakistan and the United States to broker peace talks to end a Taliban insurgency that has raged for 15 years in Afghanistan.
COMMENTS (9)
Comments are moderated and generally will be posted if they are on-topic and not abusive.
For more information, please see our Comments FAQ