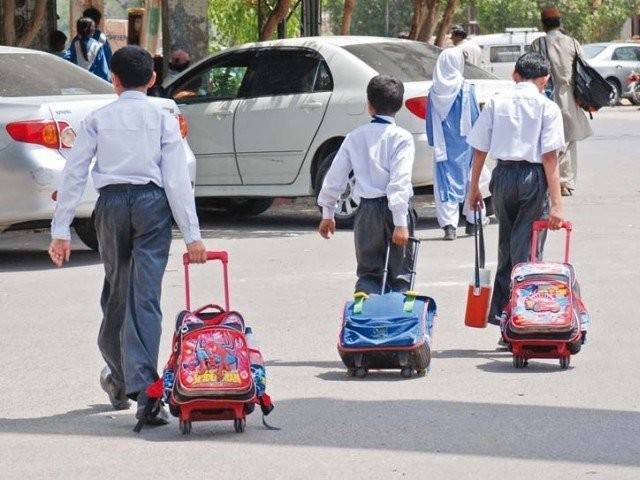 ---
KARACHI: The directorate of private institutions has not been thinking about school and education and is busy in making money, said All Private School Management Association (APSMA) Sindh chapter chairperson Syed Khalid Shah.

He was speaking at the APSMA press conference at Karachi Press Club on Monday. The organisation's regional heads, including Hyderabad, Sukkur and Mirpurkhas, were also present.

"We have sent many letters to the directorate but they never bother to reply or even meet us regarding the ongoing issues of schools," he said.

The regional presidents of the management demanded that education secretary Fazlullah Pechuho, who is currently out of the country, and education minister Nisar Ahmed Khuhro resolve the issues of private schools at the earliest.

There is a list of issues which the private schools are facing. The students, parents and school administration suffer when any student leaves school and demands a school-leaving certificate, Shah said, adding that the certificate needs signs on it for credibility.

One has to travel long distances to get it signed and in most of the cases the department submits it and asks the students to collect it afterwards, he added.

Shah also said that the new policy of renewal of schools is a big hurdle. "Registration of all the schools which are built on 120 yards will not be renewed and they have been asked to close down or shift to new and bigger buildings," he added. Shah explained that this clause should be restricted to all the new schools and not to the old ones.

The directorate of private schools has also demanded for the audit report of all schools, he said, asking how can schools, which charge Rs500 fees per month, pay for the audit? "Audit report should only be demanded for those schools who are charging a fee of more than Rs2,000 per month," he said.

Sharing another concern, he remarked that the registration fee of the schools was a big problem last year.

The directorate changed their account number and challan without informing anyone. The schools submitted the registration fees in the old accounts whose receipts were not accepted by the directorate. He demanded that the money should be refunded to the 25 schools.

Published in The Express Tribune, April 26th, 2016.
COMMENTS
Comments are moderated and generally will be posted if they are on-topic and not abusive.
For more information, please see our Comments FAQ