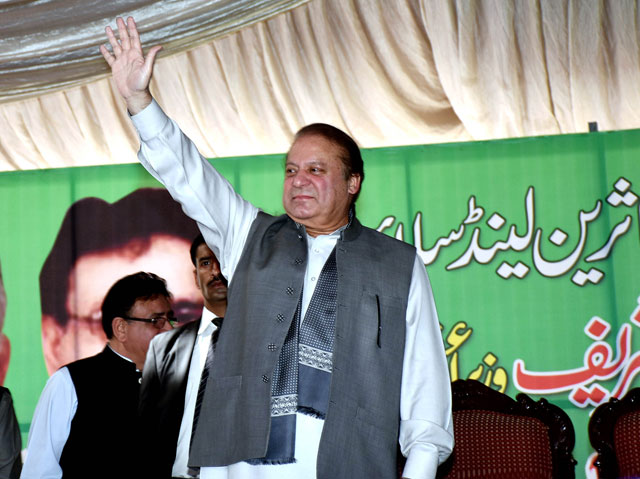 ---
Prime Minister Nawaz Sharif has said terrorism will be completely eliminated from Pakistan within two years while Karachi will also be restored to normality soon.

"You will see terrorism being wiped off from Pakistan in no more than a year or two," the PM said while addressing a public gathering in Kali Sattian tehsil of Rawalpindi on Monday.

The premier arrived in the tehsil to distribute cheques among those affected by recent landsliding and rains.

Panama Papers probe: Will go home if the charges stick, says Nawaz

"Our politics is the politics of development and elimination of poverty, and not focused on sit-ins, lies and destruction of the country," PM Nawaz said in a veiled jibe at PTI chairman Imran Khan.

"I have a lot in my heart [against them] but I am not here for their character-assassination."

Apparently responding to his alleged offshore wealth, the PM said he spent every rupee on this nation with utmost honesty and managed to save Rs100 billion from uplift projects.

Nawaz Sharif will have to leave, says Imran

"We want to have terrorism, poverty, illiteracy and electricity load-shedding eliminated," added the premier.

The PM on the occasion announced to join the tehsil with Jhelum-Muzaffarabad motorway, besides repairing important roads and building hospitals and educational institutions.

"Karachi will also be rid of terrorism, and witness a rise in business activities," he said.

Nawaz tells foes to shun politics of leg-pulling

The visit came as the PM announced to launch a campaign to reach out to public amid calls from opposition to clear his position in the wake of Panama leaks.

The leaks had revealed the premier's three children were among dozens of influential people across the globe having offshore companies in tax havens.

He also announced forming a commission headed by the Chief Justice of Pakistan to investigate the revelations.